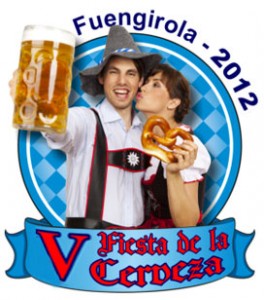 Tomorrow (1st August 2012) sees the start of the 5th edition of Fuengirola's popular International Beer Festival which will once again be held at the spectacular Sohail Castle.
Following the success of last years Festival which managed to attract more than 100.000 visitors, this year's edition promises to be even more successful. Not only has the length of the Festival been extended from 10 to 15 days; visitors will also be able to enjoy a fantastic selection of 20 different beers from countries such as Belgium, Ireland, Great Britain,Australia and France!
The stars of the Festival are the great Bavarian beers which will be served in traditional 1 litre jars. To combat hunger, nothing better than some tasty German sausages and other typical dishes which will also be available. As mentioned earlier, if you're not too keen on German beers, you'll have a choice of over 20 other beers from all over the world 🙂
Another of the main attractions this year will be the large chillout terrace  which will be set up on the clearing just outside the spectacular medieval fortress. Here you'll be able to try delicious cocktails or tropical fruit juices and sample delicious dishes from countries such as India, Australia and Argentina!
Although the International Beer Festival has an obvious protagonist, it really is a true family event. Every day there will be live music, dj's, gogos, children´s entertainment with clowns and a bouncing castle, all in a truly spectacular settling with breathtaking views over Fuengirola and the Coast.
Entrance to the Festival is free and the opening times are as follows:
From the 1st to the 15th August 2012
Monday to Friday: 7pm to 2am
Saturday and Sunday: 12pm to 2am