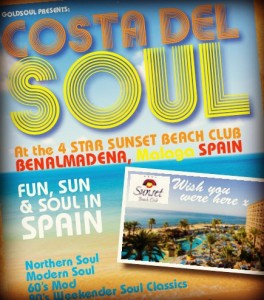 The Soul event of the year is back again! Costa del Soul will take place from the 26th October to the 3rd November at Sunset Beach Club. This is the 4th year running that Goldsoul – a well established UK soul event promoter – has chosen our hotel as a venue for their increasingly popular week long soul event.
More than 10 DJ's from the UK will be featuring the full spectrum of Soul from the early days in the UK at famous clubs like the Twisted Wheel, Golden Torch, Blackpool Mecca, Wigan Casino through the 80's.
Goldsoul are offering a 7 night package, excluding flights and guest will be able to enjoy a fantastic week of Classic Soul music from the 60's, Motown, Northern Soul era through the 70's and 80's with the best Modern and Boogie Disco Anthems.
Daily Events
From 2pm to 4:30pm every day, the Tikki Pool Bar is the place to be with chill out tunes, sun and sangria 🙂
The Panorama Bar will offer a happy hour and laid back soul sessions from 6pm to 9pm; Live sports events such as Premiership and Champions League football.
After dinner its time to dance the night away in the Moonlight Theatre, the special dance venue which will be open from 9:30pm to 2am every week night and from 9:30pm to 3:30pm on Friday and Saturday.
Soul fans living on the Costa del Sol or staying at other hotels or accommodation are welcome to the daily sessions in the Moonlight Theatre; it's just €10 Euros per person/session.
For more information please visit the Goldsoul website at www.goldsoul.co.uk or email sales(at)goldsoul.co.uk .