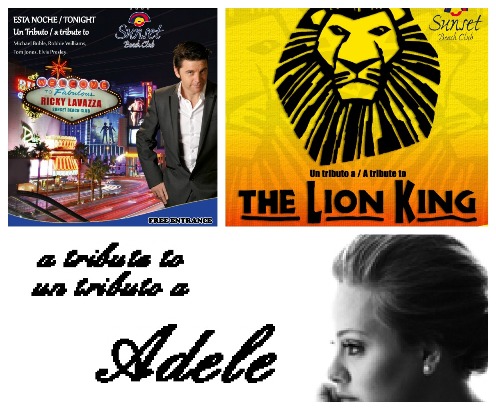 We're now well into the half-term holidays and for the next two weeks (allowing for UK and Irish school holidays) we've got some great shows and entertainment in our Moonlight Bar; and they're all free 🙂
The fun starts tonight with the – ever popular – tribute to the 'The Lion King'; a great show for the whole family to enjoy. If you're looking for something to keep the little ones amused, we highly recommend you see this show!
The show starts at 8:30pm but there's also a mini disco at 7:30pm which is another favourite amongst the little ones. If you can't make it tonight, there will be another showing next Tuesday 19th February at 8:30pm.
On Thursday the 14th February (and again on the 21st Feb) we've got an amazing new act: A Tribute to Adele. If reports from Rocio are anything to go by, we'll probably have a full house as this artists voice and on stage performance is simply incredible. A great way to spend a romantic Valentine's Day evening – if you haven't got kids, that is 😉
On Sunday 17th February we've got our resident superstar, Ricky Lavazza, with his popular 'Ricky Lavazza Show'. Prepare to be entertained with a wonderful selection of hit songs from the liked of Elvis, Bublé, Tom Jones, Robbie Williams and lots more. If you've yet to see Ricky in action, you won't want to miss this opportunity to see him – literally – 'Rock the Moonlight'.
Just to remind you that entrance to all these fantastic shows is FREE and that those of you who are not actually staying at the hotel are more than welcome to come along and join in the fun.
For a full list of events and entertainment at Sunset Beach Club, please head on over to our 'What's on Guide'.