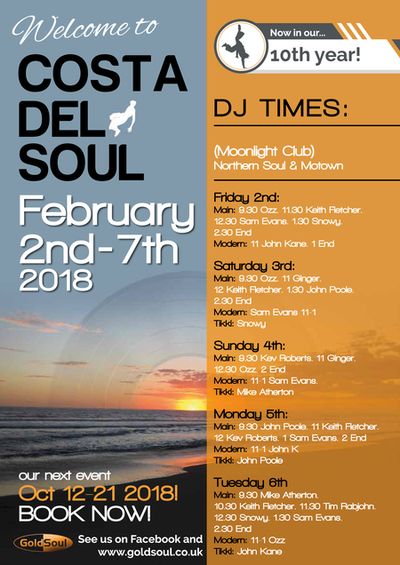 Northern Soul promoters, GoldSoul, are heading back to Sunset Beach Club this February with another edition of their 5-night winter soul break.
As many of you know, for the last 10 years we've welcomed GoldSoul for their week-long Costa del Soul events. These usually take place at the end of October, and are, undeniably, the top soul music events on the Costa del Sol.
Building on the success of their autumn Costa del Soul holidays, GoldSoul recently added a new event to their calendar: a 5-day Soul and Motown Break!
From the 2nd to 7th February (2018) Soul and Motown music fans can enjoy a fun-packed break in the sun with music every night in the Sunset Beach Club Moonlight Theatre.
Some of the UK's top northern soul DJ's will be flying in especially for this Soul music weekend including Kev Roberts, Snowy, Ozz, Ginger Taylor, Keith Fletcher, Mike Atherton, John Poole, John Kane, Sam Evans, as well as other DJ's and guests.
If you're a Soul and Motown music fan and are interested in more information about this weekend break, please contact www.goldsoul.co.uk . You'll be able to book a full package including accommodation and full entertainment pass for all the shows throughout the 5 days.
This is a privately organised event; however, hotel guests and non-residents are welcome to join in the fun. Entrance fee will be €10 per person and night and is payable at the door each night.
Full Programme
FRIDAY 2nd February
Main: 9.30pm Ozz; 11:30pm Keith Fletcher; 12:30am Sam Evans; 1:30am Snowy; 2.30am End
Modern: 11:00pm John Kane; 1:00am End
SATURDAY 3rd February
Poolside: Snowy.
Main: 9.30pm Ozz; 11:00pm Ginger; 12:00am Keith Fletcher; 1.30am John Poole; 2.30am End
Modern: 11:00pm to 1:00am Sam Evans; 1:00am End
SUNDAY 4th February
Poolside: Mike Atherton
Main: 9.30pm Kev Roberts; 11:00pm Ginger; 12.30am Ozz; 2.00am End
Modern: 11:00pm to 1:00am Sam Evans; 1:00am End
MONDAY 5th February
Poolside: John Poole
Main: 9.30pm John Poole; 11:00pm Keith Fletcher; 12:00am Kev Roberts; 1.00am Sam Evans; 2.30am End
Modern: 11:00pm to 1:00am John K; 1:00am End
TUESDAY. 6th February
Poolside: John Kane
Main: 9.30pm Mike Atherton; 10.30pm Keith Fletcher; 11:30pm Tim Rabjohn; 12:30am Snowy 1.30am Sam Evans; 2.30am End
Modern: 11:00am to 1:00am Ozz; 1:00am End