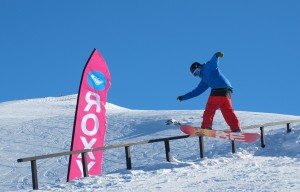 This Sunday the 22nd January it's World Snow Day, an event which is being celebrated for the first time in ski resorts all over the world!
World Snow Day is the second phase of a project initiated by the FIS in 2007 called "Bring Children to the Snow"; the concept is self explanatory… In this phase – the biggest day on snow –  simultaneous activities will occur all around the world on the 22nd January and will be repeated yearly in the 3rd week of January.
This unique initiative is designed to encourage families, and in particular, those with children to begin enjoying the snow. The idea is for children to try and experiment all types of snow related activities and sports. Obviously, people of all ages are encouraged to join in the fun and continue to enjoy the wonders of snow for years to come!
The Sierra Nevada ski station (conveniently located just a couple of hours drive from Sunset Beach Club) will be organising a special programme which includes workshops and other educational and fun activities related to snow; the idea being that kids get a fantastic introduction to the world of snow sports.
If you haven't yet visited the snowy peaks of the Sierra Nevada, this is a perfect opportunity to spend an amazing day on the sun drenched slopes ofEuropessouthern most ski station. Even if you are not a skier and have no desire try the sport, you can sit at one of the many bars and cafes and watch the world go by whilst working on that suntan 🙂
There is a great offer for non-skiers which includes access to the cable car (takes you to the main ski area of Borreguiles) and a snack lunch (burger, fries and drink) for €10. If you are feeling a little more adventurous, pay €10 more and you can enjoy the fun activity called "tubbing" which consists of shooting down the snow on a rubber tube! Don't worry, this "tubbing" takes place on a specially designed slope for this activity.
Go on… make the most of World Snow Day and visit the beautiful Sierra Nevada Ski Resort, you won't regret it!