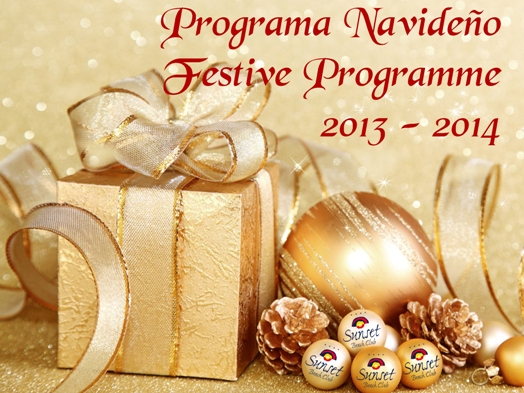 There's just over a month to go until Christmas and we're getting geared up for another fun festive season here at Sunset Beach Club.
As those of you who have stayed with us at Christmas and New Year will know, we put a lot of hard work and effort into ensuring that our guests have a wonderful festive experience with us; this year will be no exception with a fantastic events and activities programme which caters for all the family. 
Our animation team will be running their popular Kids Club during the Christmas period (see activities programme here) and there will also be lots of fun activities for the grown ups too! This is all great fun but the highlights of the Festive Programme are the events taking place on Christmas Day and New Year's Eve.
Below we've included the menu for Christmas Day lunch as well as the menu for the amazing New Year's Eve Gala Dinner. If you are planning on spending the Christmas holidays with us – and plan on attending these events – we recommend you book as soon as possible as places are limited.
Festive Programme at SunsetBeach Club (2013)
Christmas Day – 25th December, 2013
12:00pm – A visit from a very special guest… Santa Claus! All the kids staying at the hotel will have the chance to meet Father Christmas who will be bringing gifts for all of them – at least for the ones who have behaved well ;-). Adults can enjoy the fun Christmas atmosphere with a nice glass of Buck's Fizz!
1:00pm – Traditional Christmas lunch with live music in the Oasis Restaurant. Feedback from guests last year was very positive and we think that this year's menu will prove a hit too.
Cream of parsnip with crispy apple slices
***
Salmon Gravlax with beetroot, cucumber and green leaves
***
Traditional roast of stuffed turkey, smoked roasted ham, glazed vegetables, roast potatoes and cranberry sauce
***
Christmas pudding served with brandy sauce
***
Red and white wine, cava, liqueurs, coffee and mince pies 
***
Price for Christmas Lunch is €52 for adults and €15 for children aged 3 to 12 years.
New Year's Eve – 31st December, 2013
8:30pm – New Year's Eve Gala Dinner with live music, party bag and lucky grapes at midnight. The fun starts with a cocktail reception at 8:30pm with the dinner being served at 9:00pm. Here's a quick peek at the menu:
Aperitifs and canapés
***
Consome with game ravioli and winter greens
***
Red prawn terrine with green leaves and citric vinaigrette
***
Raspberry Sorbet
***
Grilled fillet of beef Perigordini with potato gratin and glazed vegetables
***
Passion fruit cheese cake
***
Red and white wine, cava, liqueurs, coffee and petit fours
Price for the New Year's Eve Gala Dinner is €90 for adults and €20 for children from 3 to 12 years.
New Year's Eve Party
When you've finished your dinner you can stay in the Oasis Restaurant and see in the New Year or you can head up to our Moonlight Bar where we've organised the New Year's Eve Party. Entrance is free and the doors open at 11:00pm; the bar will be open until 5:00am so there's plenty of time to enjoy the first few hours of 2014!
Have you made plans for the Christmas Holidays? Did you know you can stay with us over Christmas from just €51 per apartment/night (external apartment) and €76 per apartment/night over the New Year. Just head over to www.sunsetbeachclub.com to check availability 🙂