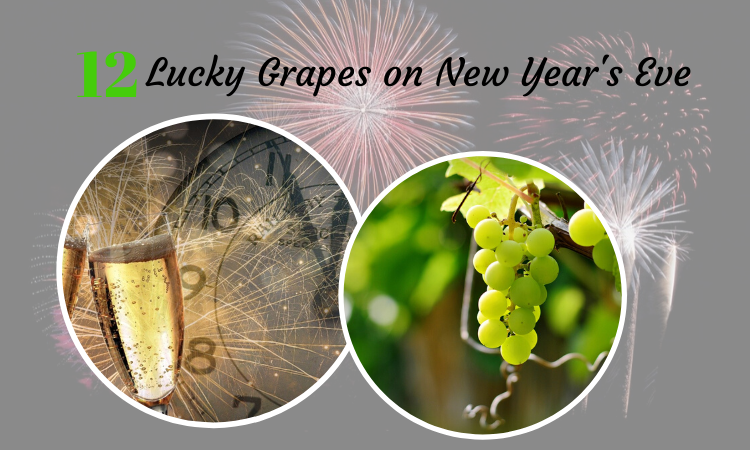 Those of you who have been lucky enough to celebrate New Year's Eve here in Spain will be familiar with the tradition of eating 12 'lucky'grapes as the clock strikes midnight. If you haven't the faintest idea what we are talking about, be sure to read on as we explain where this bizarre tradition originated and what it actually entails.
Although many believe the tradition of eating the 12 lucky grapes at midnight on New Year's Eve originated in 1909 due to a bumper crop of white grapes in the Almeria, Murcia and Alicante regions, it appears that this might not be entirely correct.
Yes, winegrowers in these regions did have a surplus of stock that particular year and were certainly instrumental in popularising the tradition of eating grapes at New Year, however, there are reports that date the tradition way back to the late 1800's.
During those times, families who were well off would often eat grapes and drink champagne to celebrate the New Year. In an effort to ridicule this 'snobby' tradition, a group of working-class 'madrileños' gathered at the Spanish capital's Puerta del Sol square to eat their grapes and sip their champagne; this is what led to the celebrations we now witness every year.
Thousands of people meet at the Puerta del Sol (equivalent of Times Square in New York or Trafalgar Square in London) to see in the New Year, singing, dancing and, of course, stuffing their 12 grapes in their mouths whilst downing their glasses (or bottles) of bubbly!
For those not living in Madrid, you'll find that most towns and cities have similar celebrations in their main squares. If you're in Benalmádena over the holidays, you can head up to Plaza de la Mezquita in Arroyo de la Miel and see in the New Year with thousands of other visitors and locals.
If you're not into celebrating with the masses and prefer to avoid the madness of these celebrations, another popular option is to just stay at home with friends and loved ones and watch the live broadcast of the event on TV. But make sure you don't forget your lucky grapes!
According to tradition, it is believed that whoever eats their 12 grapes as the bells chime (one for each of the twelve chimes) will have a lucky and prosperous year 🙂 A quick word of advice: Although it may seem an easy task – after all, it is only twelve grapes – getting them all in your mouth before the bells stop chiming is actually quite hard. To improve your chances of success, make sure you choose small grapes!
Another quick bit of advice: Make sure you start to eat the grapes when the official chimes start. Many people get confused as there are four other double chimes just before the clock strikes twelve.
Here's the whole sequence so that there are no mix-ups:
1) 35 seconds before midnight a ball at the top of the Puerto del Sol clock tower starts to fall towards the main bell.
2) Once it gets to the bottom you will hear four double chimes (Many make the mistake of starting to eat the grapes at this point but you have to wait…)
3) As the clock strikes twelve you will start to hear the 12 chimes – one approximately every 3 seconds – now is the time to start eating your grapes!
Remember the idea is to eat one grape with each chime… good luck!
Have you got any plans for New Year's Eve? At Sunset Beach Club we've got a fabulous Gala Dinner followed by a fun Party in our Moonlight Bar! You can find more information HERE.
Happy New Year!