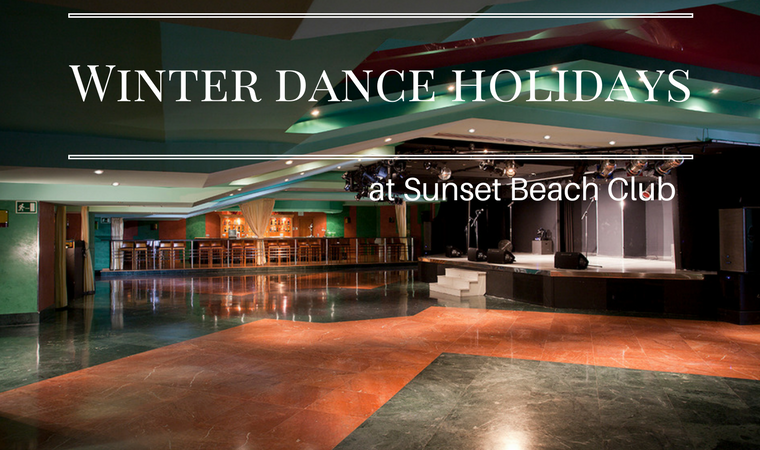 Fancy a dance holiday in sunny Spain this coming Winter?
Get away from the damp and cold UK and Irish winters and jet off to sunny 'España' for an amazing dance holiday here at Sunset Beach Club in Benalmadena, Costa del Sol, next January (2019). With average daily maximum temperatures of 18ºC in January, clear skies and sunshine prevailing and only 6 days of rain in the whole month (2016 figures), it's the perfect destination for your next dance holiday abroad!
This event will be hosted by Chris and Pete Bradley who have years of experience organising successful dance holidays in destinations all over the world. This will be their second dance holiday at Sunset Beach Club and they've put together an amazing programme which includes evening dance sessions as well as morning tuition.
Who's this dance holiday for?
Chris and Pete have put together a full dance programme which is ideal for Modern Sequence, Ballroom, Latin American and 50/50 dancers. Whilst this holiday isn't suitable for absolute beginners and non-dancers, novices and accomplished dancers will find it ideal.
Details of the event and venue
This dance holiday takes place in Sunset Beach Club's Moonlight Theatre from the 6th January to 25th January 2019 with dancers able to book stays of, minimum, 1 week.
A typical weekly programme will include the following:
5 evening dance sessions which begin at 8:00pm and finish at 10:30pm. These sessions include a mixture of the latest, up-to-date Sequence and 50/50 dancing, including Freestyle Modern Ballroom, Latin American and Popular and Evergreen Sequence dances. (Please note that the evening dance programmes don't include tuition)
2 morning tuition sessions per week from 10:30am to approximately 12:00pm. Lessons will be from 30 to 45 minutes and could include the following classes: Improvers Ballroom and Latin American, Improvers Popular Sequence and Latest Sequence (including winning dances from the January NCDTA competition).
All the dancing takes place in the Moonlight Theatre which dance hosts, Chris and Pete have personally visited. They've tested the marble dance floor which they found to be excellent for this type of dancing. Please note that if you're planning on doing a lot of dancing, they recommend bringing spongy insoles! The venue also has a smaller wood laminated area which will be used as a Latin dance floor.
These winter dance holidays in Spain start from just €231 per person/week for a 7-night stay. This price includes the following:
Accommodation (double occupancy) in a 1 Bedroom Exterior apartment (Mountain or sea views).
5 evening dances per week
2 morning tuition sessions per week
Please note that flights, transfers and meals are not included in this price.
For more information about prices for stays of 2 weeks or more and details about the dance holiday, please visit the dedicated page on our website HERE.
If you're already convinced and would like to go ahead and book, please visit our website www.sunsetbeachclub.com and enter your preferred dates (from 7th to 28th January 2018) in the search box and include the Promo Code DANCE0119. (Please don't forget to select number of adults as 2 and that there is a minimum stay of 7 nights).