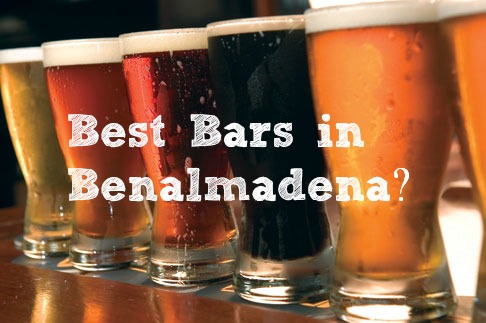 A while back we asked our Facebook fans to name their favourite bars in Benalmádena. Forty six people replied with their top choices so we thought we'd include them here on the blog in case future guests are in need of some recommendations as to the best places to enjoy their favourite drink!
We've prepared the list in order of most mentions; that doesn't mean one is better than the other but does give you an idea of which are most popular amongst Sunset Beach Club guests 😉 
These bars got the most mentions and recommendations: 
1)      Coco's Bar – Located just down the road from Sunset Beach Club it's a long time favourite!
2)      Casey Dukes Irish Bar – According to one of our guests, they actually bring in their Guinness from Dublin! Located near 24 hour square and the Marina.
3)      Salitos Bar – This is one of ours and definitely a great choice for chilling out with a nice cocktail and watching the amazing sunsets. We recommend the Mojito!!! (Only open in the high season.)
4)      Molly Malones – Another very popular choice located in 24 Hour Square near the centre of town and the Marina.
5)      Panorama Bar – Very popular amongst Sunset Beach Club guests, especially at the daily happy hour and for all live sports events 🙂
6)      Luna Beach Club – Located just 400 metres from Sunset Beach Club and with spectacular views over the beach and sea, Luna Beach is a must-visit during the summer months.
7)      The Drunken Sailor – Located on the promenade near the famous Windmill Roundabout, this established bar boasts fantastic views and friendly service.
8)      Kaleido – Located in the Marina, this is another great location to enjoy fantastic cocktails – Very popular in the evenings.
The bars included below weren't recommended as much as the eight above, however, each one did receive a mention so they make it on to our list!
The Fountain Bar – Located in Plaza España (Also known as Fountain Square).
The Torreon – Also in Plaza España (Fountain Square).
Bar None – On the sea front towards the Marina – Great for live football matches!
The Belfry – Very near Sunset Beach Club inPalm Tree Avenue. Another great venue for live sports.
The Madass Irish Sports Bar – "A friendly family bar" located in Calle Siroco, near 24 Hour Square.
Okie Dokie's – Located on the waterfront in the Marina.
Bar 76 – Just up from the Windmill roundabout.
Kon Tiki – "In front of Benal Beach, great cocktails and staff".
Shamrock Irish Pub – Along the main road, just past the Marina – Great Guinness and irish coffee!
Carlos Pub – Av Antonio Machado nº13 (Just Past the Marina) – Great interior partio!
Waykiki– Located in Plaza de los Porches.
Maracas Bar – Located in Playa Bil-Bil, just minutes from Sunset Beach Club.
So there you have it, a great list of bars in Benalmadena recommended by ourFacebook fans. Have you got a favourite? Feel free to add to this list by writing in the comments below.