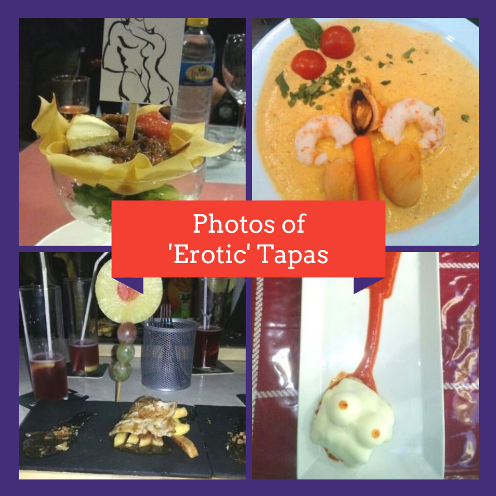 We recently wrote about the Erotic Tapas Route which was to be held in Fuengirola at the start of November. This fun and 'cheeky' event has grown in popularity over that last few years and now attracts thousands of visitors from all over Spain.
As it's such a unique concept, we like to get our roving reporters on the scene to grab photographic evidence of these 'erotic' tapas and see what all the fuss is about. Our intrepid colleague, Inma, enlisted the help of some of her friends and – camera in hand – started her adventure visiting many of the bars and restaurants participating in the Erotic Tapas Route.
Below you'll find photos of the tapas she and her friends tried together with the name of each dish and a brief description of the ingredients. We've included a brief translation of the names but please bear in mind that some of the fun is lost in translation. Some of the featured tapas look more appetising than others but what we can't deny is that  real thought and effort went into some of these fun creations!
Here goes…
#1 Flor de la Passion (Flower of Passion)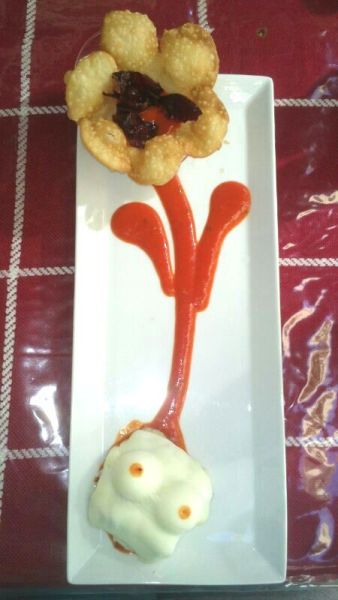 Restaurante el Rio's entry is probably one of the tapas with the best presentation; however, we're still not too sure of all the ingredients… What is clear is that the 'flower pot' is a very clever mould made of eggs!
#2 La Abuela También Tiene Ganas (Grandma is also in the mood)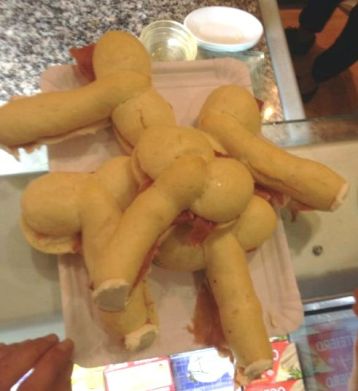 La Despensa de la Abuela prepared a simple but certainly 'erotic' tapa made with specially moulded bread (the design is pretty self explanatory) filled with Jamon Serrano and a dollop of Philadelphia cheese on the end!
#3 Desnúdame, Mojame, Cómeme (Undress me, wet me, eat me)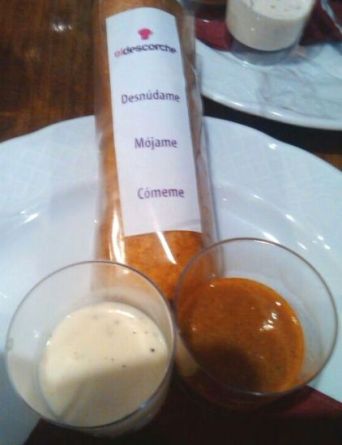 El Descorche's entry certainly had a suggestive name! Our reporter didn't actually try this one so we can't confirm what was in the rapper but we think it was some type of sausage.
#4 Afrodita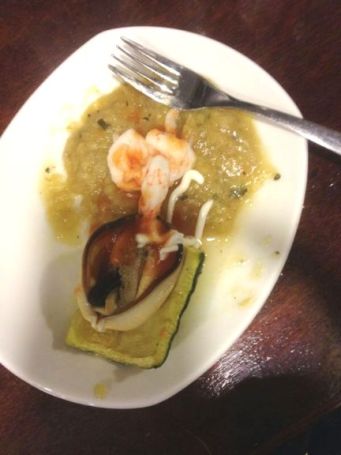 We found this tapa in Casa Center. A courgette pure, mussel and prawns. Although not the most appetising of dishes, we are told that it was in fact delicious!
#5 Flechazo (Shot through the Heart)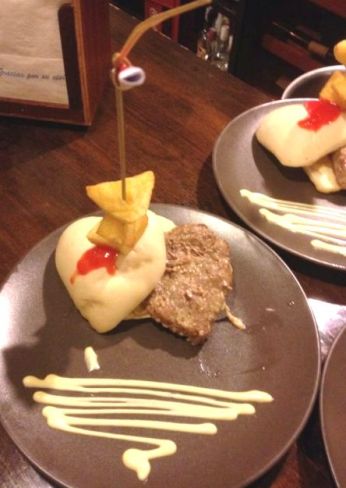 Bodega la Solera put together another interesting tapa. It was a heart shaped burger and roll with potato skewer and special sauce. There was also a small love note attached to the top – 10 out of 10 for presentation!
#6 Nido de Amor Con Mucho Rabo (Love Nest With a lot of Tail)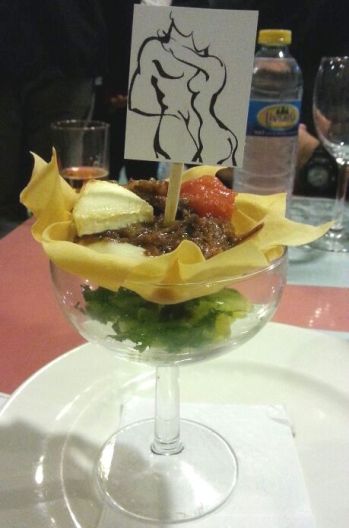 This tapa was available in Mesón Salamanca. Beautifully presented, this tapa consisted of a crispy tortilla shell filled with an ox tail stew and goat's cheese.
#7 Bis a Bis en San Quintín (Vis à Vis in San Quentin)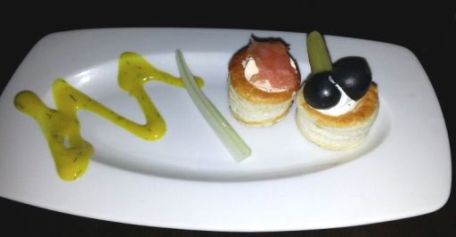 San Quintín is a bar and they came up with a fun name to go with their tapa: A couple of vol au vent's filled with cream cheese, gherkins, olives, sea food salad and salmon, all presented in a rather suggestive layout 😉
#8 Seducción del Sol al Mar (The Sun Seduces the Sea)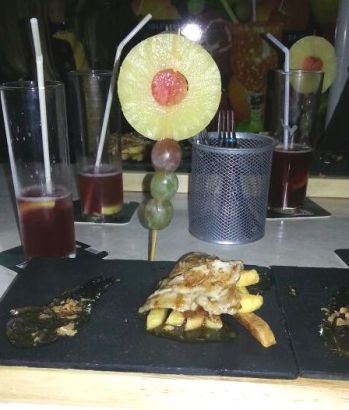 The Solymar bar put together one of our favourite tapas both in terms of presentation and flavour. Filler steak with caramelized onions over a bed of french fries; the skewer – resembling the sun – is made up of fruit.
#9 Pichotéo (Sorry, can't translate this one)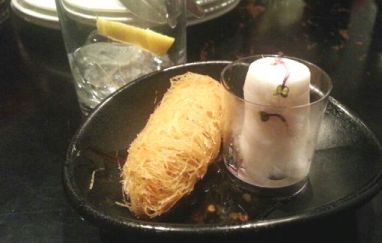 Taberna El Picotéo prepared an interesting tapa… Kalaifi pastry filled with prawns in a béchamel sauce. The white object in the glass is actually a serviette which has expanded after having hot water poured over it. Certainly different!
#10 Lujuria Mediterranea (Mediterranean Lust)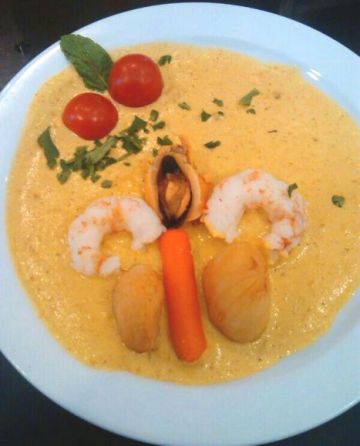 La Casona de Paqui prepared this colourful dish which consisted of a curry-style soup with prawn, mussels and other decorative elements.
How about you? Did you get to visit the Erotic Tapas Route in Fuengirola this year? What was your favourite tapa? Let us know in the comments below.