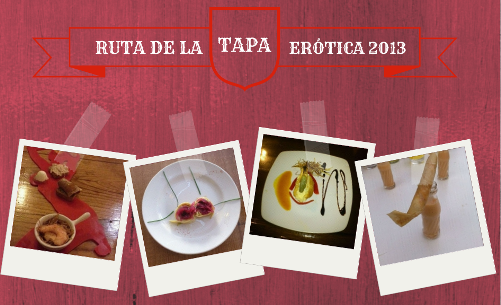 For the 5th consecutive year and thanks to the success of previous editions, this coming Friday the 1st November sees the start of the 5th Erotic Tapas Route in our neighbouring town of Fuengirola.
For those of you who are unfamiliar with this unusual and rather 'spicy' initiative, it's erotic and aphrodisiac theme makes for a fun and entertaining experience! 
The establishments which take part in the Tapas Route have to create a fun and sensual tapa; creativity and imagination are the key ingredients which all participating bars and restaurants will use to come up with their unique creations. This is the tapa that will be entered into the competition to win the title of best Erotic Tapa and will be available for customers to try during the Tapas Route (from 1st to 17th November, 2013).
The Fuengirola Town Hall hopes to use this initiative to help promote the town's gastronomic tapas scene whilst also allowing visitors to experience Fuengirola's wide selection of bars and restaurants in a fun and unique way.
Last year our colleague, Inma, decided to take up the challenge of the Erotic Tapas Route and made her way around various participating bars and restaurants sampling their 'interesting' selection of erotic tapas. Here are a few of the photos she took…
Each tapa is priced at a very reasonable €2 and includes a drink (beer, water or soft drink). These prices will be maintained for tapas taking part in the official competition and for the 17 days the Erotic Tapas Route is on.
As is now customary, the general public and visitors to the Erotic Tapas Route take an active part by voting for their favourite tapa in the special 'passports' issued at the Town Hall, Casa de la Cultura, Tourist Office or in participating establishments.
With your passport in hand, you'll have to make your way around the tapas route and try – at least – 10 different tapas from different establishments. After each tapa, you'll get a stamp in your passport and once you've collected ten, you can deposit it in the special box located in the Fuengirola Tourist Office. This will earn you a special prize (whilst stocks last) and an entry to the fantastic prize draw where you could win great prizes including a 7 night cruise for 2 people and a weeks holiday in a holiday resort on the Costa del Sol or Tenerife! 
We highly recommend you visit Fuengirola's Erotic Tapas Route for a fun afternoon or evening out. If you do, be sure to let us know how you got on and send is photos of the fun tapas you tried. 🙂