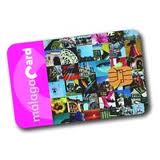 If you are planning to explore the impressive array of art and culture that the city of Málaga has to offer, you may want to read on.
Making your way around all the museums, galleries and other "must see" tourist attractions which the Costa del Sol's capital has to offer can get rather expensive.
If you are planning on spending a day in Málaga, visiting all the main museums and tourist attractions, you should definitely think about investing in the Málaga Card.
The concept and idea for the "Málaga Card" came about thanks to the Asociacion of Businesses in the Historic Centre of Málaga; the idea was to help promote the small businesses in the centre of the city and provide a value added incentive to tourists keen to see the real Málaga. 
What do I get if I Buy a Málaga Card?
The Málaga Card doesn't come cheap (€35); however, if you look at all the benefits and discounts you get with it, it's definitely worth the price. The following are some of the  advantages and benefits to purchasing the Málaga Card.
Firstly you get a detailed guide book (In English and Spanish) with fantastic routes, historical anecdotes and other "inside" information you might not find in other regular guides. You will also receive a detailed city map highlighting the main sights to visit.
The second benefit is that you get free admission to all the major museums and tourist attractions in Málaga, here are a few examples:
PicassoMuseum
The Málaga Cathedral and Museum
The Contemporary Art Centre
RomanTheatre
The Alcazaba
GibralfaroCastle
MuseumofFlamenco
BullfightingMuseum
And more….
Thirdly, you get to travel for free on the tourist bus (red double decker) which makes travelling around the city a breeze as you hop on and off at the different stops.
Finally, by showing the Málaga Card at participating establishments – this could be shops or restaurants – you will qualify for a discount on any purchase you make. Just look out for the special "Málaga Card" sticker on the shop windows.
As you can see, if you plan to visit the centre of Málaga and spend the whole day exploring this beautiful city, the Málaga Card is one investment you may want to make as it will save you quite a bit of money; just the guides and the entrance to a couple of the museums make it worthwhile!
Where to Buy Your Málaga Card
There are various authorised establishment in the centre of Málaga where you can buy your card or, alternatively, you can call the "Asociación Centro Histórico de Málaga" on 952 21 14 23.
Enjoy your visit to Málaga!
If you're looking to visit Málaga and need accommodation, Sunset Beach Club offers comfortable and affordable accommodation near Málaga. For more information and to check availability please visit www.sunsetbeachclub.com .