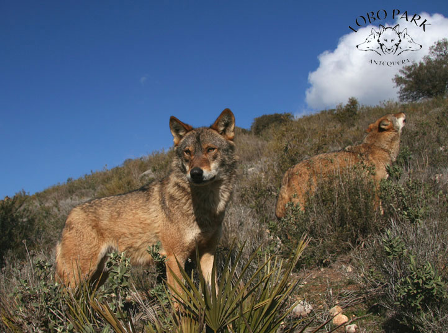 Lobo Park (Wolf Park) is located in the true heart of Andalucía (see map below) and is the only wild like park of its kind.
Founded by Daniel Weigend and Alexandra Stieber as a private initiative in 2002, Lobo Park soon opened its doors to the general public in 2004 and has since welcomed thousands of visitors. The founders idea was to provide a natural habitat which would protect the existent wildlife and allow the wolves – and other animals – to live without interference from humans or domestication. 
A visit to Lobo Park will offer you the chance to dive into the fascinating life of the wolf, a highly social animal and a perfect team worker. The wolf packs of 'LoboPark' live in a massive wild nature reserve with approximately 400.000m2 of land.
We highly recommend you take a guided wolf tour of Lobo Park and discover all there is to know about these fascinating animals. You'll learn that many of the myths and rumours about the wolf are completely unfounded; there's no other place in the world where you'll have the chance to get so close to unadulterated wolves!
Perhaps the most popular activity at LoboPark, and the one which gets the 'thumbs up' from us, is the Howl Night. If you are looking for a slightly 'different' nocturnal outing, you wont want to miss this. Howl Nights take place every weekend from May to October as well as during full moon the rest of the year (see specific dates below). From 7.30pm to midnight visitors will be able to enjoy dinner followed by a night tour of the park. During the tour the guides will give insights into the fascinating life of the wolf as well as detailed explanation as to why they howl and their vocalization.
Howl Nights from August to December 2013
August: Wednesday 21st (full moon), Saturday 24th, Friday 30th
September: Friday 6th, Friday 13th, Thursday 19th (full moon), Saturday 28th
October: Friday 4th, Friday 11th, Saturday 19th (full moon)
November: Sunday 17th (full moon)
December: Tuesday 17th (full moon)
Lobo Park also has a small petting zoo where children will be able to get close to many of their favourite animals. Whilst their kids are enjoying their interaction with the animals, parents can take in the amazing views of 'El Torcal' from the on site Cafeteria and large terrace.
Prices
Guided Wolf Tour
Adults: €11
Children (3 to 12 years): €7
Howl Nights (with dinner)
Adults: €32
Children (3 to 12 years): €25
Guided Wolf Tours Timetable
Monday to Friday: 11.00am, 1.00pm, 3.00pm, 4.30pm
Saturday & Sunday: 11.00am. 12.00pm, 1.00pm, 2.00pm, 3.00pm & 4.30pm
Opening Hours
Open all year (except 35th December & 1st January) from 10.00am to 6.00pm
How to Get to Lobo Park
If you are staying at Sunset Beach Club and would like more information aboutLoboPark, please ask at our Leisure Desk located next to reception.