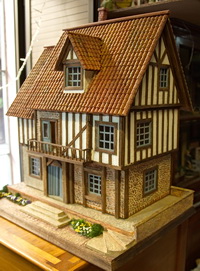 The city of Malaga is famous for its extensive cultural attractions, and in particular, for its intriguing collection of museums.
The Picasso and Thyssen Museums are, perhaps, the most well known; however, hidden in the back streets of the cities historic centre, we can find real treasures such as the Museum of Glass and Cristal and the Dolls House Museum. The latter is a recent discovery which we want to tell you about in this post.
Located in Calle Alamos (nº32) in the cities historic centre, this small museum allows visitors to enter the beautiful world of miniatures which in some cases date back several centuries. 
The 18th Century baroque building which is home to this museum is the perfect setting for these masterpieces belonging to the private collection of Voria Harras.
During your visit, you'll be able to view an impressive collection made up of almost 50 doll's houses, each carefully restored and converted into a true treasure from the past. Some of these works of art stand out due to the quality of the materials used in their construction; in many cases, we're talking about pieces which were made specifically for the noble families of the time.
We thoroughly recommend you visit this fabulous museum; if you've still got doubts, take a peek (By clicking on the link) at the virtual visit the Doll Museum offers on their website… amazing!
Note: Entrance prize to the museum is €10 per person.