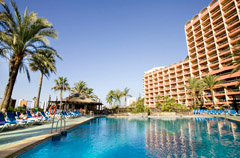 Although Sunset Beach Club will not have its own stand at this years Over 50's Show in Cork, we have joined forces with the Senior Times (organisers of the show) and prepared a great holiday competition.
All you have to do is answer a quick – and very easy – question and you could win a fabulous 4 night Spring Break at Sunset Beach Club for two people! The prize includes accommodation in a one bedroom exterior apartment and full buffet breakfast every morning. The lucky winner will have until 30th April 2012 (excluding 5th-7th April) to enjoy their break.
If you are in Cork (or nearby) over the weekend, be sure to visit the Over 50's Show at the City Hall: there will be a stand near the entrance where you will be able to enter the competion.
The show opening times are as follows:
Saturday 3rd March – 11am to 6pm
Sunday 4th March – 11am to 5.30pm
Best of luck and look forward to welcoming the lucky winners to Sunset Beach Club soon!