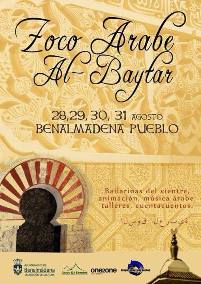 Starting today, 28th August, and until Sunday the 23rd August, Benalmádena Pueblo (the old town) will host the 'Al-Baytar' Arab Market (Zoco), event that serves as the perfect end to the summer's cultural programme. 
The Arab Market will take place in the Plaza de las Tres Culturas, Andalucia and España; in the Real and Santo Domingo de Guzmán streets and in the 'Jardines del Muro'. Aimed at promoting the town's beauty and charm, the town hall hopes that this unique event will attract tourists from up and down the Coast. 
Benalmádena locals and visitors will be able to enjoy the best of Arab culture through its products and traditions. The narrow streets of Benalmádena Pueblo will be dressed in exotic fabrics and traditional jaimas. Approximately 50 stalls will offer a wonderful choice of Arab products and arts such as spices, clothes, workshops, calligraphy or sweet treats. If you also enjoy the exotic tastes of Arab gastronomy, you'll find teas, cous-cous, falafels and other delicacies.
Theres's lots of fun entertainment on the events programme too: Street Parades and performers; belly dancers; live music, traditional games, fun rides and donkey rides for the little ones!
Don't miss this fun and unique event this weekend. Take a trip back in time and experience true Arab culture. Let your senses explode with the aromas of the delicious food and dance to the hypnotic rhythm of the music.
See you at the 'Zoco'!