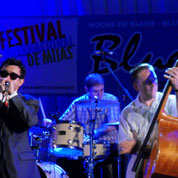 This weekend, visitors to the traditional village of Mijas wont be spending their time visiting the usual tourist attractions and riding on the famous Mijas donkeys! This weekend, the town has lined up a fantastic event which has the makings of a great weekend of music and fun: The Mijas Blues Festival.
Starting tomorrow Saturday 4th June and continuing until late on Sunday evening (5th June), the main square of Mijas will become the centre stage for some of the best Blues music.
This exclusive event has been jointly organised by Ain't Nothin But the Blues Bar in London and the Mijas Town Council Foreigner's Department; anyone planning on attending will be happy to know that all the music is FREE J, just make sure you turn up early as they're expecting large crowds!
Here's a quick look at the line ups for the weekend:
Saturday 4th June – from 5pm to 2am
Maggie Ross Band (UK) Manuel Muñoz Band (Málaga) Susan Santos & The Papa's Red Band (Madrid) West Weston's Bluesonics (UK) Red House (Madrid) Anomia Blues Band (Málaga)
Sunday 5th June . from 3.30pm to 10pm
Mamma Paula Blues Band (Marbella) West Weston's Bluesonics (UK) Maggie Ross Band (UK) Susan Santos & The Papa's Red Band (Madrid)
For more information, please visit the official website for the Mijas Blues Festival
Anyone thinking of travelling to the Costa del Sol for the Blues Festival and in need of accommodation can check availability on our website at www.sunsetbeachclub.com