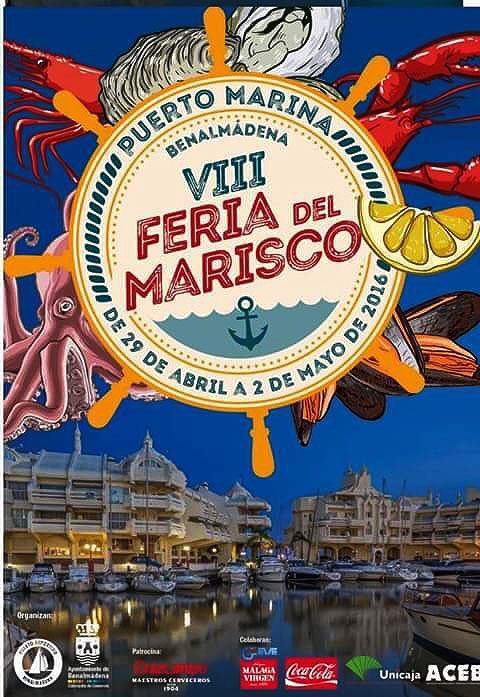 Benalmadena is getting ready to host it's popular 'Feria del Marisco' (Seafood Fair). This event usually takes place at the end of March but last year's dodgy weather might have convinced the organisers to change the event to the end of April. From 29th April to the 2nd May, all visitors to the Marina will be able to sample some of the most delicious seafood at a bargain price!
Year after year this successful gastronomic event has gone from strength to strength; last year alone there were more than 25,000 visitors who made their way to the Marina to sample the delicious seafood on offer. This year the organisers hope to improve upon that figure as the event coincides with one of the big Sailing Regatas of the season which takes place between the ports of Cartagena, Benalmadena and Melilla.
This year, some of Benalmadena's most famous establishments – famous for their fresh seafood – will take part in the fair, offering visitors the best products (food and drinks) at unbeatable prices. These are just some of the dishes you'll be able to sample over the weekend:
Prawns
Mussels
Clams
Rice with seafood
Calamares
Boquerones
… and lots more!
The restaurants featured this year are the following: Los Mellizos-El Mero, Casa Rafael, Casa Emilio, La Despensa del Mar, La Sirena-Pili y Rafa, La Langostería and La Plaza.
All the seafood available is substantially discounted so it's a great opportunity to tuck into your favourite dishes without spending too much; in some cases you'll find dishes up to 40 or 50% cheaper than in a normal 'Chiringuito' (Beach Bar).
The Seafood Fair will be held in the parking area of the boat yard and you'll be able to start sampling the delicious food from 12:00pm each day.
Here's a quick video of a previous edition of the Seafood fair to give you an idea of what to expect.
Note: If you plan on visiting the Seafood Fair and you're looking for accommodation in Benalmadena, be sure to check out the Sunset Beach Club Hotel Website for a great-value stay in one of the Costa del Sol's most popular hotels.