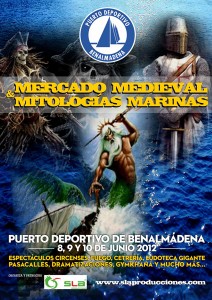 The Marina in Benalmadena is becoming a true centre for family fun and entertainment; this weekend is no exception. From Friday the 8th June to Sunday 10th June, visitors to the Marina will be able to wander around a Medieval Market as well as enjoy an ample programme of activities aimed at families.
Workshops, kids activities, street performers, theatre, plays and a flying exhibition are just some of the activities on the cards for this weekend of fun and games.
The market will have 60 stands which will showcase more than 300 varied items such as leather goods, silver, stones and minerals, natural soaps and glass blowing. There will also be a medieval camp, a school of squires, a small stable with ponies which the little ones can ride on and a bird of prey exhibition where you'll be able to take lots of photos.
Programme of events
Friday 9th June – The programme and evening shows will focus on medieval tyrants and mystical pirates.
Saturday 10th June – A day dedicated to Mythological Greek Gods with a fantastic evening show which includes theatre, humour, circus acts – including fire eaters, aerial acrobats and street performers.
Sunday 10th June – The final day of the market is dedicated to medieval warriors. Don't miss the 'Juicio de Dios', a performance in which two warriors will do battle to conquer the 'Villa de Benalmadena'.
The fun begins on Friday the 8th June at 7:00pm (until 1:00am). On Saturday and Sunday the market will open between 11:00am and 2:30pm in the mornings and 7:00pm and 1:00am in the evenings.