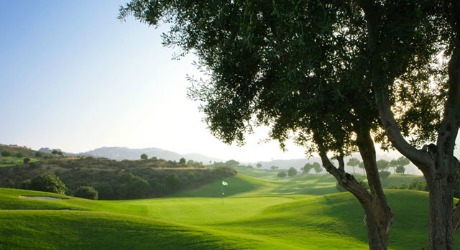 The Costa del Sol is famous for its golf courses; with over 60 different locations to choose from, golfers who choose this sunny destination for their golf break are literally spoilt for choice.
Price points vary depending on the course; there are courses charging over €100 and there are courses for half that price. In this post we highlight 9 golf courses offering green fees for under €55. As you will see below, these low prices are based on low season; however, they are still great value for money! (Please note that these prices are based on the offers we have available at the Sunset Beach Club Golf and Leisure Desk).
So without further ado, here are 9 golf courses where you can get a great round of golf for less than €55:
#1 La Cala
Our sister resort has great value offers all year round but the best price is available from 1st December 2012 to 31st January 2013; a green fee including buggy costs just €46 per person. The great thing about La Cala is that you get to choose from 3 different 18 hole courses: America,Asia and Europa!
#2 El Chaparral
From the 1st January 2013 to the 28th February 2013 you can play a round of golf at El Chaparral for €55 including buggy. This is the only golf course on the Costa del Sol with 6 par 3's, 6 par 4's and 6 par 5's!
#3 Santa Clara
Santa Clara Golf is offering green fees for €43 per person from 1st December 2012 to 3rd February 2013. This price does not include a buggy which is an extra €32. This is a great offer for this Marbella based course where golfers of all levels will enjoy a unforgettable round of golf.
#4 Marbella Golf
This Robert Trent Jones designed course is offering green fees for €53 including buggy from the 19th November 2012 to 17th February 2013. Another great deal at one of Marbella's most established courses. An added bonus… the views from some of the holes are breathtaking!
#5 Alhaurin Golf
Up to the end of2012 agreen fee at Alhaurin Golf is just €43; from 1st January to 15th February 2013 the price goes up slightly to €45 (still great value) – this price includes a buggy which is pretty much a requirement in this spectacular, yet challenging Seve Ballesteros designed course!
#6 Santa Maria Golf
Another classic in the Marbella Golf scene, a round of golf at Santa Maria costs just €47 from the 1st December 2012 to the 14th February 2013 – Price includes buggy.
#7 Lauro Golf
Lauro Golf has a good offer of 2 green fees and a buggy for €107 from 1st January to 31st January 2013.
#8 Cabopino Golf
One of the newer courses in the Marbella area, Cabopino Golf is offering 2 green fees and a buggy for the great value price of €87 for 2 green fees and a buggy (from 16th November 2012 to 28th February 2013!
#9 Mijas Golf
Mijas Golf has 2 18 hole courses, Los Lagos and Los Olivos. Los Lagos is actually closed at the moment but they have a good offer at Los Olivos: €44 per green fee and €22 for a buggy. This is a reasonably flat course so the buggy is completely optional.
So there you have it, our list of 9 Costa del Sol golf courses offering green fees for under €55. If you'd like more information or would like to book a tee time, please speak to Annemie and Susanna at the Sunset Beach Club Golf desk or check out our dedicated Golf Page on our website where you can check out our fantastic flexi golf packages.