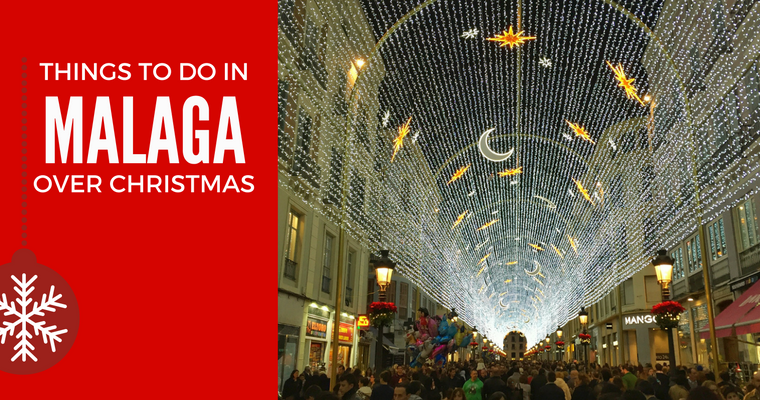 With just a couple of weeks to go until Christmas, Málaga city centre is bustling with festive fun and excitement!
A walk through the streets of the city's historic centre at Christmas time is an experience we would recommend to all who visit the Costa del Sol at this time of year. The stunning Christmas lights, mouth-watering gastronomy and magical ambience make for a truly wonderful visit to the Coast's capital.
There's lots going on in Malaga over Christmas; however, the four suggestions listed below are absolute musts:
#1: A Walk through the city centre to see the Christmas Lights
Málaga is well known for its impressive Christmas light displays and this year is no exception. The 'Ayuntamiento' (City Council) has splashed out (over 500,000€) on a breathtaking display of lights covering the the city's main shopping street, Calle Larios. A giant dome structure weighing more than 25 tonnes and made up of 3,200 strings of microled lights and 344 colourful stars and moons, runs along the whole street.
As if this wasn't impressive enough, this year there is the added spectacle of a stunning light show to the sound of music. If you visit Calle Larios at 6:30pm and 9:30pm every evening until the 6th January, you'll be able to watch the lights flicker to the sound of three songs: Wham's 'Last Christmas; Queen's 'Show must go on' and Carmina Burana's 'O Fortuna'.
The lights over Calle Larios will lead you up to the 'Plaza de la Constitución' where you'll find a colourful 18-metre-high Christmas tree standing tall in the centre of the square. This is an ideal spot to grab that cherished holiday photo.
If you have time, make your way down to the 'Muelle Uno' shopping centre which is also beautifully lit up with Christmas lights. Located within Malaga's main port, this really is the perfect place to enjoy a gentle stroll and make the most of the stunning views of Malaga City.
#2: Follow the Route of the Nativity Scenes
Nativity scenes form the backbone of Malaga's Christmas traditions. These 'Belenes' or 'Nacimientos', as they are referred to locally, make for fascinating viewing.
Every year visitors have the opportunity to follow a special route to see many of the nativity scenes (Belenes) which have been put on display at various locations within the city's historic centre. There are approximately 45 of these 'Belenes'; however, if you don't feel like looking at all of them, just make sure you don't miss these particularly beautiful and, in some cases, unusual examples:
The Belen in the Town Hall which is 150m2 in size!
The Belen in the main Cathedral.
The Belen in the 'Patio de Columnas' in the Thyssen Museum which is Baroque in style.
#3: Visit the Traditional Christmas Market
Located along the main avenue in the centre of the city (Avenida del Parque), this traditional Christmas market offers a wide and varied selection of products. If you're looking for those last minute Christmas gifts, this is your place. You'll find Christmas decorations, jewellery, arts and crafts, decorative items for the home and lots more!
#4: Take your Kids to the MIMA Children's Fair
Every year The 'Palacio de Congresos de Malaga' (Exhibition Centre) host MIMA, a special fair targeted at children and families.
Easily one of the most popular events over the Christmas period, this fair includes an enormous play area with more than 60 different activities including fun rides, sporting challenges (zipline, climbing wall), educational workshops, and even a special section for parents to enjoy their own activities. This post will give you an idea of what to expect.
If you've never visited Malaga at Christmas time, this is the perfect time to do so. From Sunset Beach Club you can just jump on the train or catch a bus and you'll be enjoying the Christmas lights in Malaga City centre in no time. Don't forget to let us know what you thought in the comments below!
Merry Christmas!
P.S. If you're looking for somewhere special to spend Christmas, take a look at the wonderful programme we have prepared here at Sunset Beach Club…