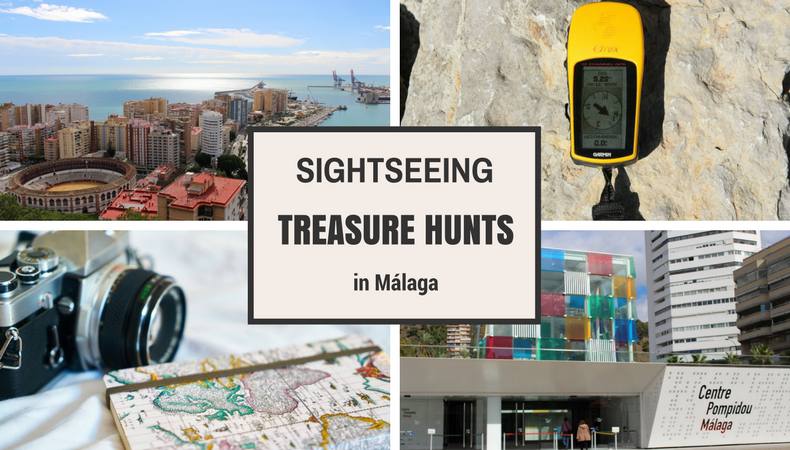 There are dozens of tours and excursions available to explore Málaga City, but none quite like iCachr Málaga's sightseeing treasure hunts!
Elizabeth and Matthias, the founders of this innovative tour company, have taken sightseeing to a more interactive and enjoyable level, by incorporating it into an exciting treasure hunt which will take you on a memorable journey of discovery. You'll visit all of Malaga's top sights and attractions as well as interesting 'not- quite-so-famous' ones. You'll have to find hidden clues along the way which will lead you to the 'Secret Treasure of Málaga'.
For your adventure, you'll be given a treasure hunting bag containing a modern GPS compass, a treasure book and other fun gadgets.
There's no need to follow a massive tour group around the city, trying to keep up with an overly energetic tour guide. With an iCachr tour, it's just you, your compass and a treasure book which contains all the stations you'll explore, at your own pace, on this city tour.
After a brief introduction and explanation from your tour guide, you'll head off on your adventure in search of the hidden treasure. You'll have to pass by several 'stations' solving small riddles or finding hidden clues along the way. But don't worry, these small tasks don't take long and you'll have plenty of time to do your own exploring too.
The final stop on your sightseeing treasure hunt should bring you to the coveted 'secret treasure of Málaga' and a rendezvous with your tour-guide.
So how does it work?
The GPS compass you're given is easy to use, so you needn't worry about getting lost. You simply have to follow the arrow on the screen and enjoy the stunning sights of Málaga. But, just in case, you'll also be equipped with a mobile phone containing your treasure guide's contact number. If you have any questions or queries whilst exploring Málaga, just grab the phone and dial.
The other vital piece of your treasure hunting kit is the treasure book. Every double page in this booklet contains one of the stations you will visit; on the left you'll find interesting cultural facts and information as well as Elizabeth and Matthias' insider tips and on the right side, you'll find your next task or riddle to solve in order to get to the next clue.
There are various tours and experiences available, here's some information on each of them:
Sightseeing Treasure Hunt for Tourists
This tour takes approximately 3 hours to complete and will take you to some of Málaga's most popular tourist attractions (as well as other lesser-known sites). You'll visit the following landmarks: The Alcazaba fortress, Plaza de la Merced, the Central Market, Málaga Cathedral, the famous Muelle Uno harbor area, Cervantes Theatre, to name but a few.
Prices
Kids (up to 15 years old): Free
Students: €20 per person
Adults: €25 per person
Times
This tour runs daily at 10:00am (except Tuesday & Wednesday); however, other times can be arranged for a supplemental €5 fee per person.
From June to September, there is an evening treasure hunt at 6:30pm.
Meeting Point
The fountain in Plaza de la Constitución (Top of Calle Larios).
Treasure Hunt for Hen & Stag Parties
The team at iCachr Málaga also arrange unique and personalized treasure hunts for hen and stag parties. They'll be happy to include a few stops for typical Málaga drinks and tapas as well as other games and activities for the future brides and grooms and their friends.
Corporate and Team Building Treasure Hunts
Companies looking for a different type of team building activity in Málaga will find iCachr's proposal interesting. Having studied 'Development of Competencies' in Germany, the tour company's founders, Elizabeth and Matthias are well prepared to lead teams on an exciting and motivational treasure hunt through the streets of Málaga.
Groups are split up into teams of 5 or 6 people and equipped with GPS compass and their treasure book with instructions on what to do. During their tour, they'll have to solve challenging riddles and look for hidden clues that'll lead them to the treasure! An award ceremony is held at the end of the adventure.
Málaga Crime Challenge Tour
This is a great one for fans of crime and mystery. You'll embark on a 2 or 3-hour quest to solve a crime. Equipped with your navigation equipment and crime lab tech, you'll visit some of Málaga's 'shadier' locations with the sole objective of deciphering this crime.
Prices
Adults: €30 per person
Students: €25 per person
Students (12 to 18 years): €15 per person
Kids (6 to 12 years): €10 per child
To book your Málaga Sightseeing Treasure Hunt, please call (or Whatsapp) +34 618250617 or email info@icachrmalaga.com. For more information, you can also go to www.icachrmalaga.com.
Happy treasure hunting!
Visiting the Málaga area and need accommodation? Sunset Beach Club hotel in Benalmádena Costa is just a 20-minute drive from Málaga and offers comfortable apartment-style accommodation and excellent facilities for a fun family holiday. Please visit www.sunsetbeachclub.com for more information and to check availability online.