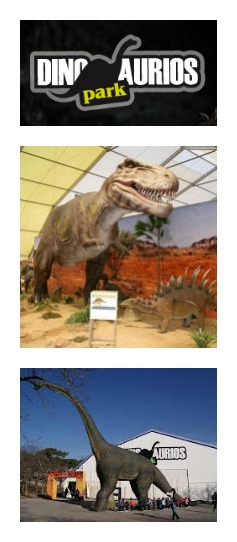 IMPORTANT UPDATE (July 2015): This park is now closed! However, if you're looking for some fun activities in the area, check out our list of 26 Fun Things to Do in Benalmadena (and surrounding areas) 🙂
There's a fun new exhibition in Torremolinos and it's got some pretty massive inhabitants… Dinosaurs!
During July, August and September, the Dinosaurios Park exhibition will be located in the main car park of the Torremolinos Exhibition Centre and will provide both entertainment and education for children and parents alike.
An enormous 12 metre tall brachiosaurus will welcome you upon arrival at the exhibition and once inside, you'll be taken on a fascinating trip into the world of the dinosaurs. There are more than 50 replicas of dinosaurs, many of which are life size!
Here's a quick summary of what you'll find at the Dinosaurios Park:
Life size Dinosaur fossils
Mechanical dinosaurs which come to life with their unique movements and sounds.
Realistic scenes that take you back to the dinosaur age.
Replicas of dinosaurs that reach 12m in height!
The chance to become a palaeontologist for a day by looking for fossils.
Documentaries
Games
And lots more…
The admission price is €7 for adults and €5 for children and can be purchased at the Sunset Beach Club leisure desk.
Opening times: Everyday from 10.00am to 8.00pm
Location/Address: Palacio de Congresos de Torremolinos, Calle México 3, 29620, Torremolinos.
Are you planning on visiting Dinosaurios Park this summer? If you do, be sure to let us know how you get on 🙂