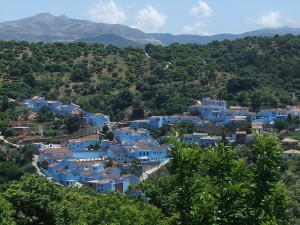 Júzcar, a traditional white village situated near the famous town of Ronda, has been chosen by Sony Pictures as the setting for the premiere of their new film "The Smurfs 3D" this Thursday 16th June.
This wont be your run-of-the-mill premiere, Sony's PR experts have come up with an innovative idea to gain publicity for the launch: Paint the whole town blue! No kidding, they have managed to convince the town's inhabitants to paint their houses "smurf" blue…
A team of 20 painters – 11 of which are villagers who were unemployed – has been hard at work painting every single building in the village (See photo).
So why did Sony choose this small – previously – white village in the hills near Ronda for their world premiere? Apart from the incredible climate, it seems that Júzcar is also popular for its promotion of sustainable tourism; they have special walking routes and also organise mycological events and, as we all know, mushrooms are the Smurfs favourite food 🙂
All the media exposure has had a very positive effect on the village's coffers as tourists flock to take pictures of the famous Smurf Village. Business is booming, so much so, that they are considering keeping their new colour indefinitely!
For the moment, they have voted to remain "Smurf" Blue until September, at which point they will review the situation and decide on whether to paint all buildings white again – incidentally, the cost of painting the village white will be taken care of by Sony as part of the agreement.
So if you're planning on visiting Ronda this summer, make sure you pop into Júzcar. Apparently, the village will be organising a special "Smurf Tour" which will include a free hat and t-shirt… think about it, you'll be able to tell all your friends that you visited the original Smurf Village and you'll have the t-shirt to prove it!