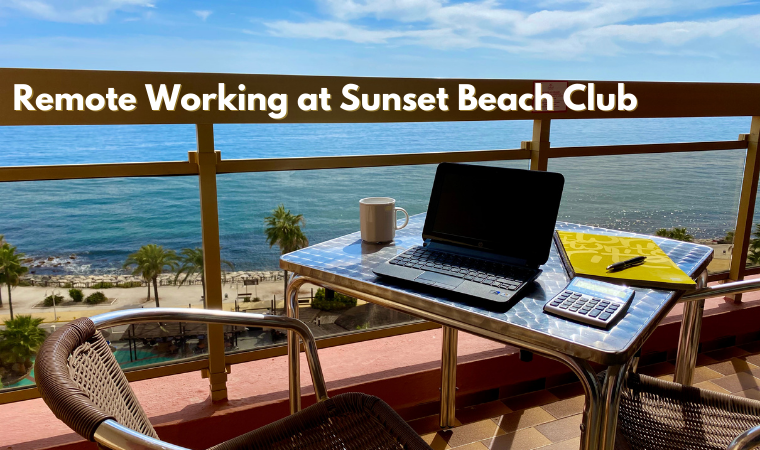 After the Covid debacle and all the mobility restrictions imposed by the government in all facets of our daily lives, something as common as going to work has become an odyssey.
Working remotely has been postulated as the salvation of many workers, entrepreneurs and digital nomads. It is, without a doubt, an excellent option for a better work-life balance and in many cases can be much more productive.
At Sunset Beach Club we have the ideal facilities for you to set up a great office with breathtaking views. It may be the perfect place to find the inspiration and creativity you are looking for.
Do you have a project in hand and need to plan it out?
Can you imagine yourself sitting with your laptop working on this terrace overlooking the sea? With these views, you'll be coming up with a constant flow of good ideas!
Our apartments offer a comfortable and equipped space to carry out your "work from home" with the security and privacy you need, and without distractions (well, except for the views, which you won't be able to resist from time to time.)
All Sunset Beach Club facilities are safe spaces thanks to the tireless work of our housekeeping team and hydro alcoholic gel dispensers distributed throughout the hotel common areas.
If you are looking for accommodation for a longer stay, (more than 1 month) please contact our reservations department directly by email. Furthermore, don't forget to ask about discounts on parking and gym/indoor pool membership for hotel guests.

Here's a short summary of the facilities and services that you'll be able to enjoy to work remotely in comfort:
Apartment with a table in the living room and table on the terrace. You decide where you want to work. A little vitamin D in the morning on the terrace is a fantastic way to recharge the batteries at the beginning of your workday. If it starts to get too warm on the terrace you can move inside where you will have air conditioning to keep you cool as you type away.
Choose from several types of apartment and views of the mountains or the sea.
Fully equipped kitchenette with refrigerator, oven, coffee machine, microwave and cutlery. You'll find a supermarket inside the hotel, and two supermarkets less than 2 minutes away so you can fill the fridge with your favourite products and avoid having to go out to eat – although that is also a possibility as there are many bars and restaurants close to the hotel.
Free high-speed Premium Wifi in the apartment and common areas if you book directly with the hotel. Zoom meetings without connection problems!
Panorama bar – a great spot to enjoy a refreshment – you can also work here, or if you want to disconnect for a while, you will find live sports on the TV screens.
Panorama Lounge – A quiet space without distractions where you can plug in your laptop and work quietly if you want to leave the apartment for a while.
Access to the gym – with its weight room and exercise classes in small groups – and the heated indoor pool. Hotel guests get special prices (25% discount) and there are also special offers for long-stay clients.
Outdoor pools with sun loungers and sun umbrellas (and pool bar in season).
Underground parking and outdoor parking (ask for discounts for long stays).
24-hour reception and printing service.
Daily cleaning of the apartment.
Meeting rooms with special prices for remote workers.
Self-service laundrette on the 2nd floor of the hotel.
How about it? Do you think you could work from the comfort of one of our apartments?
Contact us now for further information!
But it's not all about work, is it? … at the end of the day, you have to eliminate some of that accumulated stress and what better way to do it than enjoying our beautiful town and surrounding areas.
Benalmádena offers a multitude of attractions and activities to relax and enjoy your free time. These are some of our favourites:
A walk through Paloma Park – 200,000 meters of gardens and green areas and a large artificial lake will undoubtedly help you to disconnect and enjoy a little nature.
Get some exercise walking along the promenade that runs along the entire coast of Benalmádena. From the hotel, you can stroll along the seafront until you reach another of the town's most popular attractions, Puerto Marina. With more than 1000 berths and a multitude of restaurants, bars and shops, it has been voted the most beautiful marina in the world on several occasions.
Do you want to do some shopping? The Miramar shopping centres in Fuengirola and Plaza Mayor, near Malaga airport, are a 20-minute drive from the hotel. With a taxi rank outside the hotel, it won't take long to get to your shopping destination. You can also visit the Benalmádena street markets that are held on Wednesdays and Fridays.
Rent a bicycle – our receptionists will be able to help you – and ride along the sunny promenade. When leaving the hotel you can turn right and head towards Fuengirola or, if you choose to turn left – and depending on how brave you're feeling – you can go all the way to Malaga!
Benalmádena offers 6 beautiful hiking routes that will allow you to exercise and enjoy nature and the fresh mountain air. We won't even mention the views … Spectacular!
Climb onto the Benalmádena cable car that will take you to the top of Monte Calamorro. From the top of our municipality, you'll enjoy 360º views of the coast and the interior. Don't forget your camera!
You will also have the opportunity to visit Colomares Castle, Selwo Marina, Sealife, the Butterfly Park or the Buddhist Temple (the largest in Europe) – some of Benalmadena's most popular attractions.
To find out more about the possibilities of working remotely from Sunset Beach Club, please contact us:
Complete this simple Enquiry Form
Email our Reservations Team : booking@sunsetbeachclub.com
Call +34 952 579 400