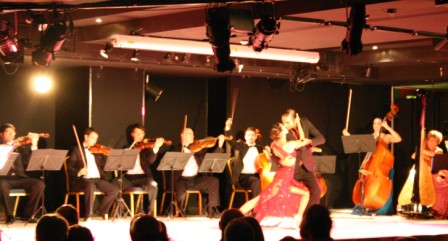 The 'Arcos de Buenos Aires' Company will be performing their highly acclaimed 'Reina de la Plata' Show in the Moonlight Theatre at Sunset Beach Club this coming Saturday the 11th May 2012.
This is now the fourth time this talented group of musicians and tango dancers have performed at Sunset Beach Club and judging by the popularity of previous editions, we are expecting tickets to sell out quickly.
For those of you who are unfamiliar with the format of the 'Arcos de Buenos Aires' Shows, we'll quickly explain: The company is led by prestigious conductor and composer Walter O. Tejada Carranza and is made up of 16 artists. Throughout the evening, spectators will be treated to some of the most amazing and traditional tango dancing routines coupled with the beautiful music of a string chamber orchestra. It really is a fabulous combination and well worth witnessing for yourselves!
Tickets are just €10 and can be purchased at the Leisure Desk located on the 6th Floor of Sunset Beach Club or at the entrance of the Moonlight Theatre on the night of the show.
The show starts at 9.00pm on Saturday 11th May 2013.
Hope to see you there!