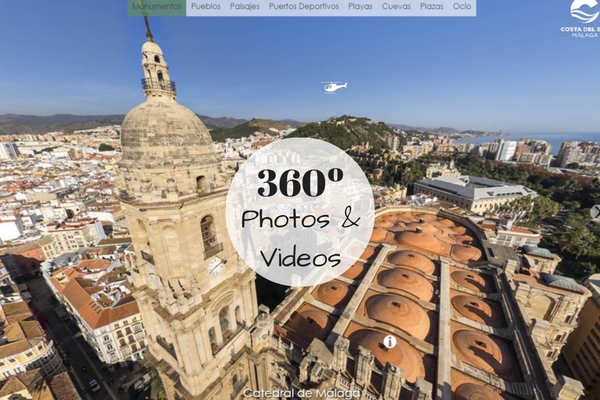 Since the start of 2016, tourists can take a virtual tour of many of the Costa del Sol's most popular tourist attractions thanks to a new project by the Coast's Tourist Board.
'Costa del Sol 360' (www.visitcostadelsol.com/360) allows users to 'visit' forty two of Malaga province's most popular and important tourist attractions, including: Towns, monuments, marinas, views, beaches, natural parks, caves and leisure attractions. Visitors will be able to explore each of these locations using their smart phones. All they have to do is rotate their phone to see each of these tourist attractions from a unique perspective which would be impossible from the ground.
Due to the importance of foreign tourism for the Malaga province, each of these 360º virtual tours has been prepared in the following languages: Spanish, English, French, German, Russian and Chinese.
This first stage of this project has been a great success, having a direct impact on more than 30,000 potential tourists all over the world who carried out a virtual tour during the first few weeks.
The second stage of the project went a little further and aimed to use video and augmented reality to recreate one of Malaga City's most important events: Holy Week. As you can see in the video below, the results are amazing!
Perhaps the most interesting stage of the project – and one that will benefit many of our golfing guests – is the one that is being undertaken at the moment. The tourist board is working on the 360º filming of all the golf courses in the Malaga province. Allowing golfers who are planning to visit the Costa del Sol to explore all the golf courses from such a unique perspective will serve as an important tool to promote the virtues of golf on the Coast to this key market responsible for much of the 'off season' tourist business.
We're dying to see the end results of this fascinating initiative which will undoubtedly allow visitors to learn about all the advantages our beautiful destination has to offer… and it's all as easy as looking at your smart phone!