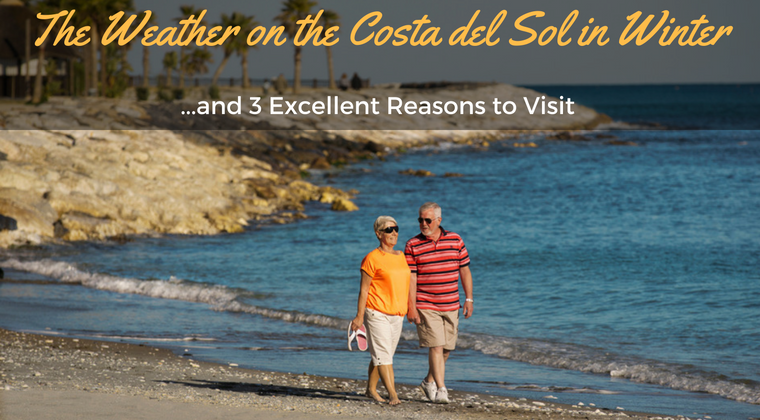 The Costa del Sol is undoubtedly one of Europe's top holiday destinations during the busier spring, summer and autumn seasons; however, what many people don't know is that it's also a popular resort for those looking for a winter sun break!
One of the main reasons for this popularity is the mild and sunny weather which prevails during the winter months (December, January and February).
If you're from the UK or Ireland, it's sometimes difficult to believe that you're on the same continent! You look out of your window and all you see are gloomy clouds and rain… to add to the dreariness, you step out the door and you're met by freezing temperatures and on occasions, snow and ice!
You probably get home and the first thing you do is check the price and availability of flights to the nearest sunny destination. And guess what, you're in luck. Flights to the Costa del Sol's capital, Málaga, are frequent and, in the winter months, surprisingly cheap. In less than 3 hours you can be soaking up the Spanish sunshine and sipping on a nice cold 'cerveza'.
Still have doubts about the weather on the Costa del Sol in winter… is it really that great? Well, whilst we can't promise endless sunshine and high temperatures, we can show you the actual daily temperatures and hours of sunshine per day taken from Malaga airport weather station in December 2015 and January 2016. Whatever happens, chances are it will be warmer, drier and sunnier than most of the rest of Europe!
Here's a quick chart highlighting the interesting weather stats for the Costa del Sol in December and January: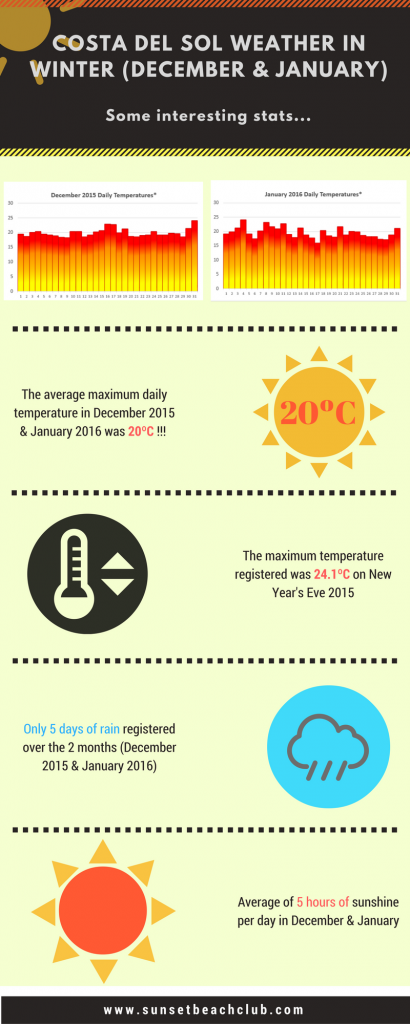 So to sum it all up…
Average Maximum Daily Temperature in December & January: 20ºC
Maximum Daily Temperature reached: 24.1ºC (on the 31st January 2015)
Only 5 days of rain over the two month period.
Average of 5 hours of sunshine per day during December & January
Whilst the weather is probably the main reason for visiting the Costa del Sol in the winter, there are others. Here are three of our favourites:
It's cheaper and less crowded than during the high season
Whilst the high season summer months can get a little chaotic with the heavy crowds, the winter months make for a welcome change. You'll find queues to major tourist attractions significantly shorter and a 'stress-free' ambience which adds to the charm of this unique part of Andalusia.
Supply and demand during the winter season means that flight and hotel prices are significantly lower with fabulous bargains to be grabbed if you book far enough in advance. As an example, staying at Sunset Beach Club during December or January means you can take advantage of our lowest room rates… just €58 per night in an exterior apartment (sea or mountain views).
It's Golfer's paradise with great rates and less crowded courses.
With over 60 golf courses, the Costa del Sol really is a golfer's paradise. The months of December and January tend to be a little quieter on the courses which means you'll be able to enjoy a relaxing round without the stress of having to wait at every tee and being able to book your preferred tee-off time.
You'll also find that rates at many of the courses are lower during these months allowing you to take advantage of some great deals. If you're a keen golfer, you'll want to take a look at our great-value golf packages which include accommodation, tee times, buggy and hire car!
It's a great time of year to explore the Costa del Sol
It can get a little hot to visit tourist attractions during the summer but December and January are ideal for a little cultural sightseeing. As you've read above, the temperatures are perfect for going out and exploring the wonders of Southern Spain. Whether it be a cultural tour of Malaga City centre, visiting the vast array of museums and spectacular landmarks or taking a hike through the gorgeous countryside, there really is something for everyone.
If you prefer to wonder a bit further afield, the leisure desk at Sunset Beach Club offers organised tours and excursions to the most stunning and emblematic cities in Andalucia, including Granada, Seville and Ronda.
So have we convinced you yet? Are you ready to discover the delights of the Costa del Sol during the winter months? If you're looking for accommodation, be sure to visit www.sunsetbeachclub.com for fantastic rates! We're located next to the sea and our comfortable apartments and extensive facilities make for an ideal winter getaway.