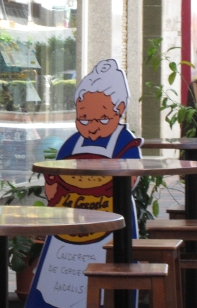 Following the success of the 1st edition of 'La Cazuela dela Abuela' (Grandma's Casserole) in Fuengirola last year, the town hall has decided to organise 'Part 2' of this successful gastronomic initiative.
Originally designed to help promote the town's excellent selection of restaurants – and to help support the restaurant trade in the quieter off-season – this unique event also helps to introduce visitors to more traditional Spanish dishes and stews.
Due to the great success of last year's event, Grandma's Casserole has been extended from 10 days to 17 days (from 15th to 3rd March). Both locals and tourists will have more days to sample the delicious and traditional stews and casseroles which will be available in many of the town's restaurants. A small casserole and a drink (glass of wine, beer or soft drink) will cost just €2 🙂 
Although the 'La Cazuela de la Abuela' initiative bears resemblance to another of Fuengirola's star events – The Erotic Tapas Route – it differs in that it focuses more on the tasting (and recognition) of traditional dishes which so many Spaniards were brought up on as kids.
As is now tradition, the organizers will also be holding a competition in which all those who wish to participate will have to collect no less than five different 'La Cazuela de la Abuela' stamps from participating restaurants. It'll be easy to distinguish these establishments as they'll have a distinctive sign or poster outside (like the one in the photo above).
Once the visitors have collected their 5 stamps, they will have to go to the Tourist Office where they'll receive a surprise gift and  entered into a prize draw where they can win various free dinners.
What do you think of this event? Are you planning on trying some of these tasty dishes?
Let us know in the comments below.