On the 10th, 11th and 12th May, Benalmádena Marina will host a new event called "Little Italy", an opportunity for visitors to get to know Italian culture through its gastronomy, fashion, art and folklore.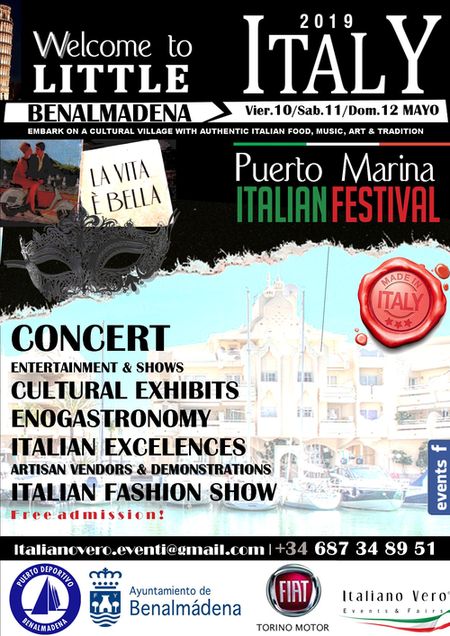 Organised by the "Italiano Vero" collective who are dedicated to the promotion of Italian culture throughout Europe, "Little Italy" will offer local residents and visitors a little piece of Italy in our Marina, as well as help raise awareness of the Benalmádena's spectacular Marina in Italy.
The event will take place in the 'Dársena de Levante' area of the Marina (The eastern side of the Marina, near the main car park) and is the first major festival of these characteristics to be held in Spain.
Inspired by the "Dolce Vita", with an Italian-style ambience that aims to transport visitors to the glamor and excellence of the 50s and 60s, this "Italian style" retrospective aims to promote Italian culture on the Costa del Sol through the presentation of gastronomic, fashion and cultural products "100% Made in Italy".
The organizers will use the decoration of the spaces and the distribution of the different stands to create an environment inspired by the cinematographic work of Federico Fellini encouraging those who visit to enjoy a unique experience.
Visitors can also enjoy live performances by Italian artists and the chance to win a fantastic CityTrip for two people to Milan that will be drawn at the end of the event.
If you plan to visit "Little Italy" and you are looking for accommodation in Benalmádena, at the Sunset Beach Club Hotel we have fantastic apartments, a Beach Club, Chillout Bar and other excellent facilities for an enjoyable stay in Benalmádena. You can find more information at www.sunsetbeachclub.com.