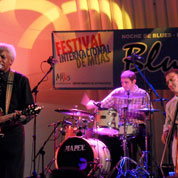 It's that time of year again… from the 6th to the 8th July 2012, Mijas Town becomes a haven for Blues lovers from all over as it celebrates the 6th edition of the Mijas Blues Festival.
Ain't Nothin´But… in collaboration with the Mijas Town Council Foreigner's Department have once again put together a fantastic event which aims to become one of Europe's top Blues festivals. Best thing about this event fantastic event is that it's FREE!
The festival will be held in the town's main Plaza with Friday night's acts on the beautiful old bandstand and Saturday and Sunday's on the main stage. 
Festival times are as follows:
Friday: 8pm to midnight
Saturday: 8pm to 2:30am
Sunday: 8pm to midnight
Here's a list of the great musicians playing at this year's Mijas Blues Festival:
Friday 6th July – 8pm to midnight
Maggie Ross Band (UK)   11pm
Billy Preacher & Friends (Belgium/Malaga)   9:30pm
Moochers Trio (Malaga)   8pm
Saturday 7th July – 8pm to 2:30am
Dwayne Dopsie & the Hellraisers (USA)   11:45pm
West Weston's Bluesonics (UK)   9:15pm
Los Andabluses (Sevilla)   10:30pm
Lito Blues Band (Malaga)   01:30am
Maggie Ross Band (UK)   8pm
Sunday 8th July – 8pm to midnight
Dwayne Dopsie & the Hellraisers (USA)   10:30pm
West Weston's Bluesonics (UK)   9:15pm
Anomia Blues Band (Malaga)   8pm
For more information about the musicians playing at the Festival, please visit www.mijasbluesfestival.com
Anyone planning on visiting the Mijas Blues Festival 2012 and looking for great value accommodation whilst on the Costa del Solis welcome to take a look at a great new website – www.sunsetbeachclub.com 🙂