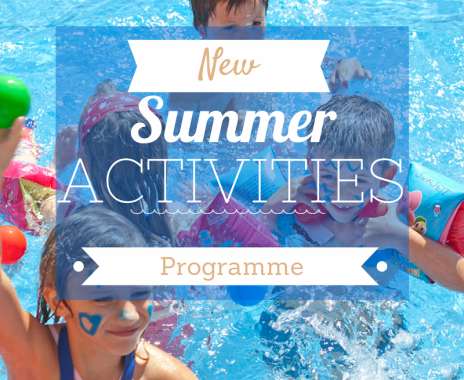 With less than a week to go until the 'official' start of the summer, we're busy putting the final touches to our fun packed entertainment and activities programme which we're sure you'll love. 
Those of you who have stayed with us before will already know that our daily activities programme is divided into 3 age groups: Kids (from 5 to 12 years), Teenagers (13 to 18 years) and Adults.
We've got some fun new activities lined up for this year. Here's a quick summary:
For a healthy and sporty start to the day, join the entertainment team for a session of Latino Aerobics or high intensity Cross Fitness.
Those of you who prefer to keep cool in the pool can join in the new Aqua Zumba classes which a proving extremely popular!
If you've got the moves, you have to try the new 'Flash Mob' activity (adults & teenagers) every Thursday morning. The entertainment team will show you some fancy dance moves which you'll then perform in front of all the guests (who happen to be around the pool at the time) 🙂
Kids can have fun – and keep cool at the same time – with the all-new Aqua Disco activity.
Teenagers can test their football skills taking part in our 'Precision football' activity every Friday afternoon.
The Fair Ground Games activity is back again for the second year running. From 3:00pm to 4:00pm every Monday, Tuesday and Thursday kids can play fish-a-duck or test their aim in the shooting gallery for a chance to win some great prizes!
Of course, the activities programme wouldn't be the same without our popular Pirate's Day! During July and August, kids can enjoy a full, fun-packed day of activities whilst mum and dad relax by the pool! There is a small charge of 15€ per child for the Pirate's Day but this includes lunch!
Evenings in the Moonlight Theatre
The Moonlight Theatre will host fantastic evening entertainment for all the family; and it's free! J
Our entertainment team is back again this year with their popular 'Mary Poppins' tribute show and there are plans for another musical tribute in the next few weeks.
Ricky Lavazza continues to delight guests with his weekly show of tributes to Elvis, Tom Jones, Bublé and Robbie Williams as does the lovely Nicky with her tribute to Adele.
The new Katy Perry tribute in Tuesdays is apparently amazing so that's another one to add to the list of great acts!
If you'd like to download an example of the summer activities programme, you can do so HERE. To keep up to date with all the daily activities in the hotel, take a peek at our Events Calendar!
Enjoy the summer! 🙂