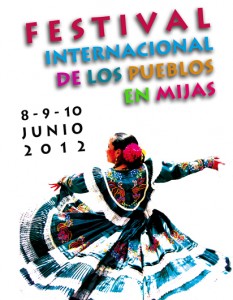 This weekend – form the 8th to the 10th June – the town of Mijas celebrates its traditional 'Festival de losPueblos' (People's Festival).
The town will transform into a large stage with shows, music, dance and street performers. Everyone is invited to this large party which will take up most of the town's streets and squares and serves to show the world the multicultural nature of Mijas' inhabitants.
With stands, performances and workshops from Algeria, Cuba, Brazil, India, Uruguay, Germany, Morocco, Colombia, United States, Bolivia, Mexico, Ukraine, Senegal, Chile, Great Britain, Bulgaria, Vietnam, Argentina, Thailand, Israel, Spain and Mijas, a fun weekend is guaranteed!
As was the case last year, Mijas town will be divided into three different zones for the festival: Red (Plaza Virgen de la Peña), Green (Plaza dela Constitución) and Blue (Jardines dela Muralla). Each of these will have exhibitions, street performers, music, dance, workshops and a special area for children.
Here are some of the highlights and activities to look out for over the Festival weekend:
Friday 8th June
A live music and dance performance from Senagal in the Red Zone.
Don't miss the amazing concert in the Blue Zone: The 'Stolen Gnomes' with their traditional irish music.
Saturday 9th June
Stellar performance in the Red Zone by 'Mat & Maxine', lead dancers from the world famous show, 'Riverdance: Lord of the Dance'. With music from the Stolen Gnomes and Linda Scalon, this is a show you won't want to miss.
In the Blue Zone, enjoy a taste of South America with the fabulous Brazilian Dancers.
Street musicians, acrobats and entertainers will also contribute to a great evening of colour, music and fun!
Sunday 10th June
On Sunday afternoon head over to the Blue Zone for the 'Rat Pack show, a magnificent tribute to the great Frank Sinatra, Dean Martin and Sammy Davies Junior.
Also on Sunday afternoon, the Red Zone will turn into a Bollywood film set for a great song and dance spectacle.
If you'd like to see the full programme of events for the Festival, you can see (and download) one Here
If you're staying at Sunset Beach Club over the weekend, we highly recommend you fit in a visit to this Mijas Festival 🙂