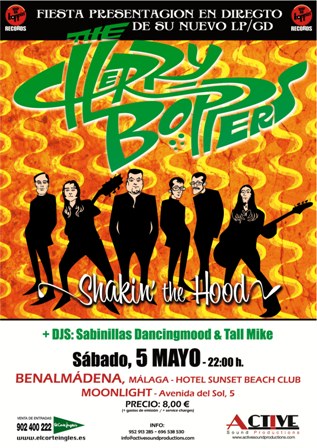 The Cherry Boppers, a Jazz-Funk-Rock Band from Bilbao will be visiting Sunset Beach Club for the launch party of their new album, "Shakin' the Hood". The event will take place on the 5th May 2012 at the Moonlight Theatre.
Organised by Active Sound Productions, this great evening of music will also include a performance by  DJ's Sabinillas Dancingmood and Tall Mike.
A few interesting facts about the Cherry Boppers:
They were supporting band for Sly and the Family Stone at the San Sebastian Jazz Festival.
They have been awarded the Carlos Pina (Radio 3) award for creativity in the Rock and Soul category.
Winners of the "Villa de Bilbao 07"award for best live act.
Recently elected group of the month in "Soul Nation" magazine.
Appeared live on the "Buenafuente Show" on the La Sexta channel (see video below)
You can get more information about the "Cherry Boppers" on their Facebook page .
Tickets for the show are just €8 and can be purchased online at the El Corte Inglés website.
For more information, please call Miguel Corchón of Active Sound Productions on 696 538 530.
Watch the video below to get an idea of what you can look forward to at this exclusive event.
If you want to make a weekend of it, be sure to check out our fantastic accommodation rates on www.sunsetbeachclub.com 🙂