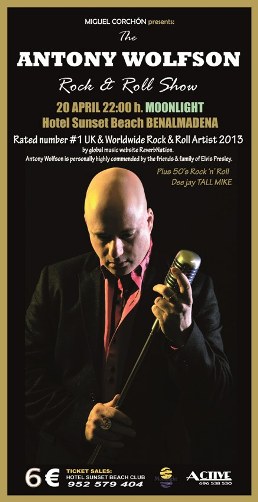 Our Moonlight Bar will once again host a great evening of the best Rock 'n Roll on the 20th April 2013.
Organised by our friends at Active Sound Productions, this event includes a performance by Antony Wolfson, rated number 1 UK & Worldwide Rock & Roll Artist 2013 by premium independent global music website, ReverbNation.
This talented vocalist and entertainer has even been highly recommended by the friends and family of the great Elvis Presley!
Performing 50's music with his own modern 'twist', Antony Wolfson's music is inspired by what is now known as the 'Million Dollar Quartet': Elvis Presley, Jerry Lee Lewis, Johnny Cash and Carl Perkins.
You'll be able to find all of Antony's music on the major online retailers such as iTunes and Amazon – his first album actually has a 5 star rating on iTunes – and his first solo single actually made it to number 1 in the internet charts beating over 150,000 competitors for the coveted top spot over Christmas 2009.
As well as Antony Wolfson's performance, you'll also be able dance away to the rock ´n roll tunes of DJ Tall Mike (AKA Miguel Corchon). A veteran of the local Rock ´n Roll scene, Miguel has also been invited to get crowds bopping and jiving at some of the most important Rock ´n Roll festivals and events inEurope. Continue Reading →