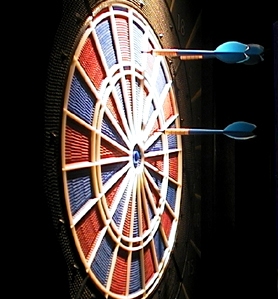 This coming weekend – from 23rd to 25th March 2012 – Benalmadena will host the National Electronic Darts Championship.
According to figures released by the Championship's organisers, there are approximately 2500 players signed up for the event. Benalmadena will be welcoming players from all over Spain, many of whom, will be coming with their families; great news for local tourism! (By the way, if anyone is looking for accommodation for the event, we know a really good 4 star hotel located on the seafront..;-))
The Championship will be held at the Holiday Village Hotel and will include the following categories: Individual male and female, pairs, mixed triples and teams. The whole tournament will take place under the 'open' format meaning that anyone who is interested in playing can sign up to compete.
Juan Olea, local councillor in charge of sports, has expressed his satisfaction at the number of players signed up for the event: "The National Darts Championship will be a splendid opportunity  for thousands of people to get to know Benalmadena and for them to enjoy the large variety of activities we have to offer".
The town hall hopes that talks held with the Federation of Darts Clubs will help to establish Benalmadena as the official host of this Championship.
The finalists of the different categories will travel t oLas Vegas representing the National Team 🙂
If you are looking for accommodation over this Championship weekend, head over to www.sunsetbeachclub.com for great rates!