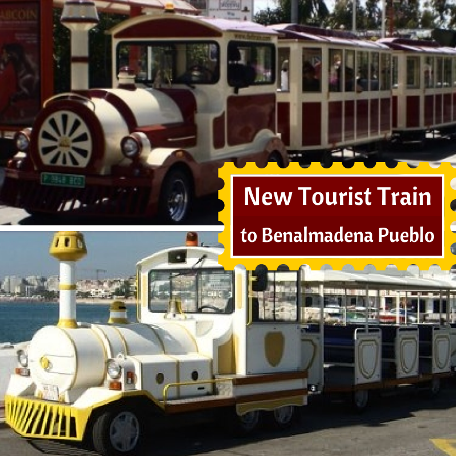 IMPORTANT UPDATE (Sept 2015)…. This train service has been cancelled until further notice!
Those of you who have visited Benalmadena will be familiar with the small 'hop on, hop off' tourist trains which ferry passengers around the Marina and the central area of Arroyo de la Miel. Well, in the next few weeks, the company that runs these trains will be introducing a new service taking tourists and visitors to Benalmadena Pueblo, located in the hills overlooking the coast.
If you've never been to Benalmadena Pueblo, this is the perfect opportunity to visit this stunning and picturesque village. The new tourist train service will leaves from the Alay Hotel (approx. 30 minutes walk from Sunset Beach Club) at 9:30am every morning.
Once all passengers are on board, the train will make its way up Avenida Las Palmeras (Palm Tree Avenue) and head up to Benalmadena Pueblo.
First stop is the Estupa (Buddhist Temple) where the train will stop for 45 minutes. You'll be able to visit this impressive building and also check our the Butterfly Park located just next door.
Next stop is Benalmadena Pueblo town centre where you'll have one and a half hours to do some sightseeing and shopping; a gentle walk through the town's cosy streets or a visit to the Colomares Castle are highly recommended.
After the visit to the Pueblo, the train will head back down the hill to the coast and drop passengers off at the point of departure.
The whole trip takes approximately 4 hours and tours leave at 9.15am every day. For just €11 per adult and 6.5€ for kids, you can enjoy a great morning out discovering the treasures of Benalmadena Pueblo's history and culture.
Note: Residents of Benalmadena get a 50% discount on tickets 🙂
Have you been up to Benalmadena Pueblo? What did you think? Let us know in the comments below.