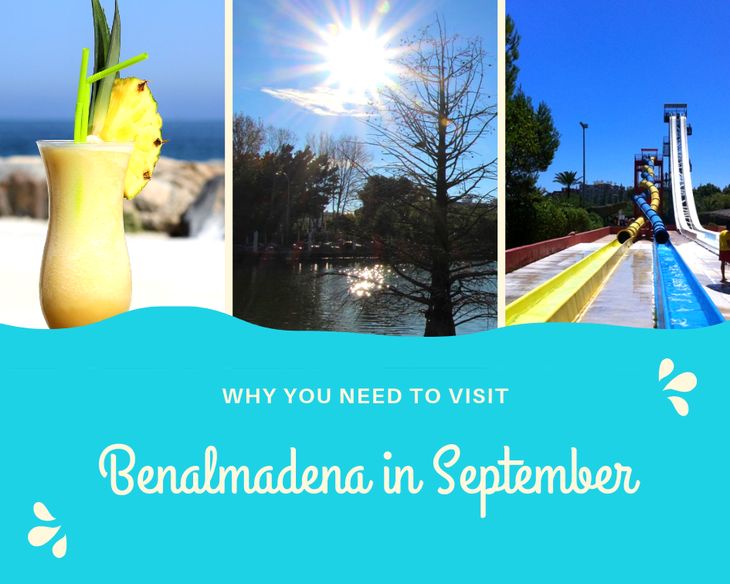 Visiting Benalmadena during the busy summer months – July & August – can be stressful. Too many people, too much traffic, too many queues, it's too hot… stress!
However, if you're willing to hold off on your holiday plans until September, the panorama changes… drastically!
September is probably one of the best times of year to visit Benalmadena. Although it's still busy, kids are back at school and Spanish travellers (who usually holiday in August) are back at work. You'll also find that flights and accommodation are considerably cheaper and the weather is still fantastic; lots of sunshine but not as stiflingly hot as July and August.
Have we convinced you to come and visit this wonderful coastal town in September? If so, below you'll find a list of things to do and places to see in Benalmadena (and the surrounding area) in September.
Before we get to the list of main visitor attractions in the area, there are a few events taking place locally in September which you may find interesting…
Events in September
Cirque du Soleil is visiting Málaga from 13th to 29th September with their 'Kooza' show. This colourful spectacle combines amazing acrobatics, the fun and laughter of clowns and a live music fusion of jazz, funk and Bollywood rhythms for an incredible experience to be enjoyed by kids and adults alike.
Show times
Tuesday to Thursday: 8:30pm
Friday & Saturday: 6:00pm & 9:30pm
Sundays: 5:00pm & 8:30pm
Location: The 'Gran Chapiteau' at the Cortijo de Torres fairground in Málaga
Price: From €34.95
Violin extraordinaire Ara Malikian brings his Royal Garage World Tour to Málaga on Friday 20th September 2019.
The concert takes place at the 'Auditorio Municipal Cortijo de Torres' and ticket prices start from €40.
The 'Luna Mora Festival' in Guaro. Although this isn't really local, it's definitely worth mentioning as it's a stunning spectacle. The streets come alive in the evenings with the stunning illumination of 25,000 candles strategically positioned to create a unique and magical ambience. Visitors will also be able to enjoy the traditional Arab artisan market, workshops (Henna and belly dancing), street performers, storytelling and mouth-watering gastronomy.
Dates: 6th & 7th September 2019.
The San Miguel Fair in Torremolinos from the 25th to the 29th September 2019. Enjoy one of the most popular festivities on the Costa del Sol… Flamenco, wines, great food, music, dancing, concerts, funfair and lots more! If you've never visited a traditional Spanish 'Feria' then this is a great opportunity to experience Spanish culture at its best!
Local attractions you'll want to visit in September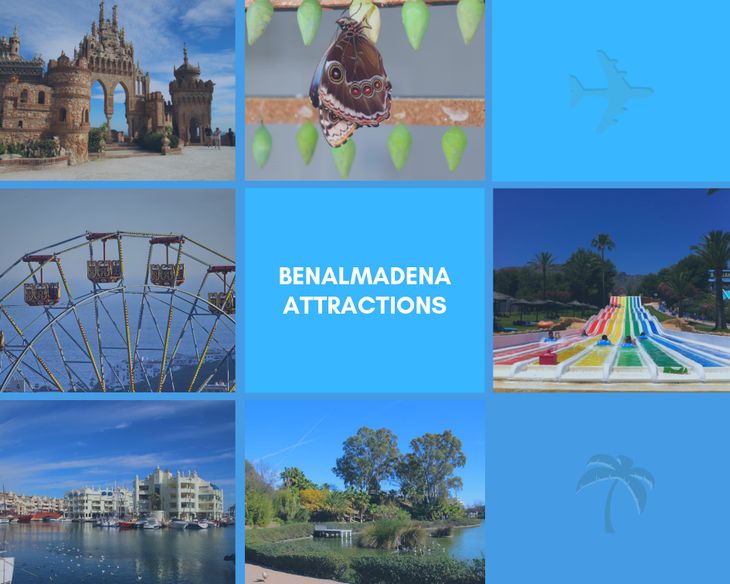 Sealife Aquarium in Benalmadena Marina. Discover fascinating sea creatures and marine life such as sharks, sea turtles, stingrays, octopuses and an array of colourful tropical fish.
Butterfly Park: Built to resemble a traditional Thai building, the Benalmadena Butterfly Park is home to over 1500 butterflies from 150 different species.
Selwo Marina: Andalucia's only dolphinarium offers fantastic dolphin and sea lion shows as well as other interesting exhibits featuring penguins and tropical creatures from the Amazon jungle.
Paloma Park: Take a leisurely stroll through this 200,000-metre squared park with vast green areas and a large lake in the centre. The highlight of a visit to this stunning park is watching the life animals running freely and feeding the large carp and turtles which live in the lake.
Stupa Buddhist Temple: This is the largest Buddhist temple in Europe and boasts spectacular views of the Coast from its privileged location above Benalmádena Pueblo.
Aqualand: September is a great month to visit the Costa del Sol's largest water park as you won't have to deal with the massive queues you can expect in the height of summer. From the scary Kamikaze slide to the family-friendly wave pool, it's a fun day out for all the family!
Cable Car: A quick 15-minute cable car ride to the top of Benalmadena's Mount Calamorro guarantees you some of the most jaw-dropping views of the Coast. There's also a fascinating bird of prey show where you'll learn about local wildlife.
Castillo Colomares: This tribute to Christopher Columbus is a popular visitor attraction throughout the year. Located just below Benalmadena Pueblo, this unique construction is well worth visiting and makes for an interesting photo opportunity.
Tivoli World: Benalmadena is also home to the Coast's longest-running amusement park with lots of fun rides, musical shows and a great selection of bars and restaurants.
A couple more reasons to visit Benalmadena in September…
Our Salitos Chillout Bar and Luna Beach Club are both still open in September! Relax in these two stunning seafront locations and enjoy a refreshing cocktail or delicious meal.
For the month of September, we've got a superb half-board offer at Sunset Beach Club. For just €16 per day for adults and €8 for kids you can enjoy our buffet breakfast and buffet dinner! CLICK HERE to book your September half-board stay now!
So what do you think? Some pretty good reasons to visit Benalmadena in September there… Have you booked your holiday? What are you waiting for?