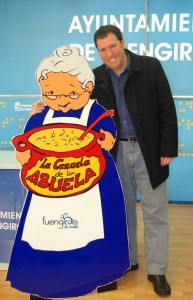 From the 17th to the 26th February, Fuengirola will be presenting their latest gastronomic offering to help promote the town's restaurants and bars: the 1st 'Cazuela dela Abuela' (literally translated as Grandma's Casserole).
During the event, visitors and locals will be able to sample delicious home made stews, like the ones our grandma's used to prepare! For the very reasonable price of €2, all participating restaurants will serve up a generous helping of warm stew (served in a clay bowl) and a drink; you can choose beer, wine or a soft drink.
Fuengirola continues to experiment and innovate with these original themed events designed to promote the towns gastronomic offering – a perfect example is last years Erotic Tapas Route – There is no doubt that this type of activity helps support the restaurant trade which, during the quiet winter months, can use all the help they can get to fill their establishments.