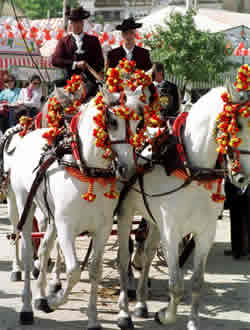 Our neighbours in Fuengirola are celebrating their local "Feria" this week (starts on the 6th October and ends on the 12th). Referred to as the "Feria del Rosario" – in honour of the town's patron saint – it is famous for its' horse exhibitions and processions.
We thought it would be interesting (and fun!) to give you a checklist of things you should do during this year's Fuengirola Fair… so here goes:
1)      Go and watch the official "switching on" of the Fair Lights. Takes place on the 6th October at 10:30pm at the Palacio dela Paz.
2)      Watch the "Misa Flamenca" (Flamenco Mass) in honour of the Patron Saint, La Virgendel Rosario Coronada. There will also be a procession which leaves from the Plaza de la Constituciónin the town centre. 7th October at 10:30am.
3)      Horse Show and Exhibition in the Fuengirola Bull Ring. 12:00pm on the 8th October – Entrance is Free