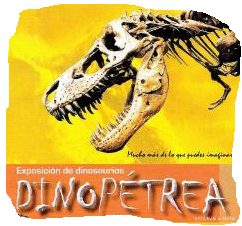 The Trade and Exhibitions Hall (Palacio de Ferias y Congresos) will host a fantastic Dinosaur Exhibition from the 28th April to the 24th June 2012.
After successfully touring various Spanish cities, this unique exhibition – named 'Dinopétrea' – arrives in Málaga for the first time and is sure to be a favourite attraction which will allow children and families to discover the amazing world of the dinosaurs.
Although presented as a scientific exhibition, 'Dinopétrea' promises to be a fun and educational experience for all who visit. You'll be able to see large skeletons and fossils from all over the planet as well as take part in numerous activities which will allow, both adults and children, to travel back millions of years to a time where the infamous T-Rex was the greatest predator on the face of the earth!