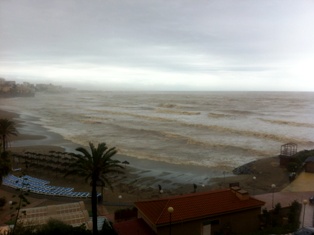 Although we enjoy approximately 320 days of sunshine a year here in Benalmadena, there are those odd days when the heavens open and you have to make use of the dreaded umbrella!
On these rare rainy days, we often get guests asking for tips and ideas of what to do on a rainy day. Thankfully Benalmadena is not all about sun, sea and beaches; there are plenty of interesting places to visit and things to do…Here's a list of 9 ideas to keep you busy in Benalmadena (and the surrounding area) when it rains.
#1 Jump on the bus (or taxi) which stop just outside the hotel and head down to the Marina. You'll find lots of great restaurants to enjoy a lovely lunch and can also visit the popular Sea Life park with its fascinating range of sea creatures. A must if you have kids!
#2 Visit the Butterfly Park in Benalmadena Town. With over 2000 different species, it's one of the largest in Europe, well worth a visit!
#3 Enjoy a coffee (or something stronger) in our Panorama Bar. We get lots of guests who play cards or just make the most of the free wi-fi service to surf the web and touch base with family and friends at home. We also have a selection of board games available in reception for you to use.
#4 Go shopping! That could be just window shopping or you could go to town and but lots of great gifts and souvenirs to take home with you. We recommend the Miramar shopping centre in Fuengirola as it's completely covered and it's relatively easy to get there by bus. You'll find lots of great shops and restaurants as well as a Cinema with English movies… which brings us onto the next tip.
#5 Go to the Cinema. You've got a couple of choices here, you could go to the cinema at the Miramar shopping centre in Fuengirola or try the Yelmo Cinema in Plaza Mayor in Málaga. Both have all the latest releases available in English, you just need to check the local press to see what's on 🙂
#6 Get a culture fix by heading into Málaga city centre and visiting some of the wonderful museums: Picasso, Thyssen,Museum of Cristal and Glass, and lots more…
#7 Treat yourself to a wonderful facial in our Beauty centre… go on, you deserve it!
#8 Head down to Boyd's Gym on the 1st floor of the hotel and join in one of the fun exercise classes. Alternatively you can just relax in the indoor pool and Jacuzzi or even indulge in a fabulous massage 🙂
#9 Have some fun in our Omega Games Room where you'll find lots of arcade games, mini bowling and pool tables.
There you have 9 quick ideas of what to do on a rainy day in Benalmadena. There's plenty more but we'll cover those in a later post. Have you got any suggestions and ideas we could add to this list? Let us know in the comments below.