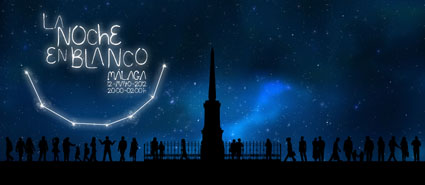 Malaga is getting ready to celebrate the 5th edition of its 'White Night' (La Noche en Blanco) cultural event. Last year the Costa del Sol's capital was flooded with just over 200,000 visitors who flocked to experience some of the activities and entertainment on offer during this unique evening.
Unfortunately, this year the event has been hit by the economic crisis and will suffer an important 50% reduction in its budget. Although the overall investment in the event wont reach €60,000, the mayor of Malaga, Francisco dela Torre, has publicly stated that the program for this years event will be more ambitious and will offer more spaces and activities.
Just a quick reminder that during the 'White Night' all activities in the official program are free! If you're interested, you'll have to head to Malaga on the evening of the 12th May between 8:00pm and 2:00am.