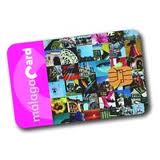 If you are planning to explore the impressive array of art and culture that the city of Málaga has to offer, you may want to read on.
Making your way around all the museums, galleries and other "must see" tourist attractions which the Costa del Sol's capital has to offer can get rather expensive.
If you are planning on spending a day in Málaga, visiting all the main museums and tourist attractions, you should definitely think about investing in the Málaga Card.
The concept and idea for the "Málaga Card" came about thanks to the Asociacion of Businesses in the Historic Centre of Málaga; the idea was to help promote the small businesses in the centre of the city and provide a value added incentive to tourists keen to see the real Málaga.